January 24, 2012
Press Release: CMU's Center for the Arts in Society Launches New Media Initiative
Contact: Shilo Rea / 412-268-6094 / shilo@cmu.edu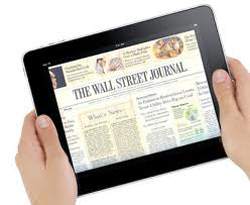 PITTSBURGH—It's no secret that the way media is being delivered and consumed is rapidly changing. Gone are the days when the only way to find out what's happening is to read the morning newspaper. Now, thanks to technology innovations, media is much more accessible and immediate.
Carnegie Mellon University's Center for the Arts in Society (CAS), a research center within the Dietrich College of Humanities and Social Sciences and College of Fine Arts that investigates the role of arts in societies, is launching a new initiative to explore the role that new media — digital, networked, computer-mediated and social media — now play in social life, cultural politics and political mobilizations.
"The media initiative is an attempt to draw together CMU faculty who focus on media — whether they are 'old' or 'new' — and support projects that use the rubric of media as a vehicle to foster new, productive collaborations between artists and humanistic scholars," said Paul Eiss, CAS director.
Spearheading the CAS media initiative are Art Professor James Duesing and Associate English Professor Kathy M. Newman. Based on their individual academic work, Duesing and Newman see the initiative as being a broad fit to different interests in media and any form of electronic or social media.
"What is considered media is a constantly moving target," said Duesing, a computer animator and video artist. "For example, how can you think about identity theft without addressing identity? Artists, theorists and economists along with criminals and politicians organically use media as a developing tool to explore the world."
Newman, an expert in mass and popular culture, added, "Media allows for the humanities and arts to come together around a shared theme. Media and social change connects immediately in some way to the kind of work that many of us do at CMU. The computer and math geniuses at CMU create the algorithms that drive networking sites like Facebook. On the other end of campus we try to understand how networking sites like Facebook are transforming our relationship to art, music, photography, information and culture."
The media initiative will support three projects, one of which is currently open for proposals. The first, Listening Spaces, seeks to understand the overwhelming impact technology has had on social and personal interactions with music. It is under the direction of Richard Purcell, assistant professor of English, and Richard Randall, assistant professor of music theory.
The second project is titled "Gender/Sexuality/Media." Led by Suzie Silver, associate professor of art, this research/production initiative will engage in explorations of gender expression, sexuality and gender representations in media. Experimental filmmaker Tom Kalin will be coming in March to show and discuss his feature film "Swoon" on the 20th anniversary of its release.
Another major component of the initiative is to organize events to encourage dialogue on media-related issues. Events planned for Spring 2012 include a panel discussion on "New Media/News Media: How New Media are Changing the Way We Make and Consume the News" at 4:30 p.m., Wednesday, Feb. 15 in Baker Hall's Steinberg Auditorium (A53). Panelists are Tony Norman, a columnist at the Pittsburgh Post-Gazette; John Allison, Post-Gazette opinion editor; Chris Potter, editor of the Pittsburgh City Paper; Martha Rial, a Pulitzer Prize-winning photographer at the Post-Gazette; and Deanna Garcia, a reporter at Essential Public Radio.
Additionally, a lecture on American print culture, techniques or inscription, and the "new media" of yesterday and today is being scheduled. A mini-animation conference is planned for early April in collaboration with Pittsburgh Filmmakers. The topic of this conference will be the role of the individual in animation as independent producers and as part of the industry.
For more information on CMU's Center for the Arts in Society, the new media initiative and all related events, visit http://www.cmu.edu/cas/.
Related articles:
Q&A with CAS Director Paul Eiss
What is "Listening Spaces?"
###