October 15, 2012
Press Release: Carnegie Mellon To Explore Technology's Impact on Music Culture
Contacts: Shilo Rea / 412-268-6094 / shilo@cmu.edu
Pam Wigley / 412-268-1047 / pwigley@andrew.cmu.edu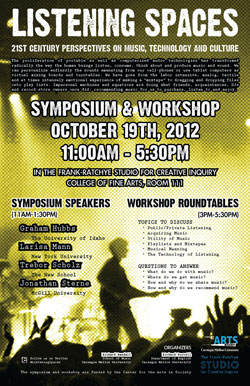 PITTSBURGH—Technology has changed the way people access and listen to music. To understand these changes, Carnegie Mellon University's Center for the Arts in Society (CAS) is hosting "Listening Spaces: 21st Century Explorations of Music, Technology and Culture."
Free and open to the public, the event will be held in two parts on Friday, Oct. 19 — from 11 a.m. to 1:30 p.m. and from 3 to 5:30 p.m. in the College of Fine Arts' Frank-Ratchye STUDIO for Creative Inquiry and Alumni Hall.
The CAS, a research center within the Dietrich College of Humanities and Social Sciences and the College of Fine Arts that investigates the role of arts in societies, has launched an initiative to explore the role that new media — digital, networked, computer-mediated and social media — now play in social life, cultural politics and political mobilizations. Listening Spaces is a project under the media initiative that is examining how music is used, where people are getting it and how and why it is shared or recommended, and how these elements are different across cultures.

"At Carnegie Mellon, we are amazing at creating technology, and this event will allow us to start a conversation on how we use it," said Richard Purcell, assistant professor of English and co-director of Listening Spaces. "There's also a communal aspect that we're interested in — how people come to know about music. You used to walk into a record store or listen to the radio — how has technology changed that?"
The event will feature talks by Jonathan Sterne, associate professor of art history and communication studies at McGill University; Trebor Scholz, who teaches in the Department of Culture and Media Studies at The New School; Graham Hubbs, assistant professor of philosophy at the University of Idaho; and Larisa Mann, adjunct professor of media communications and culture at New York University who also deejays as DJ Ripley. They will discuss various issues on how music consumption is changing, including how file formats have transformed, how digital and social media impact music interests and creativity, and ethical and copyright issues.

Following the talks, the audience will break into groups for discussions on public and private listening, acquiring music, utility of music, playlists and mixtapes, musical meaning and the technology of listening.

"We really want to explore whether technology has improved our experiences with music," said Richard Randall, assistant professor of music theory and co-director of the project. "Is technology good or bad? Is it diluting the product or weakening the human relationship with music? Just as technology has radicalized print media — it is doing the same to music."

For more information, visit http://www.cmu.edu/cas/media%20initiave/listening%20spaces/index.html.

Related Article:
CMU's Center for the Arts in Society Launches New Media Initiative
###