October 08, 2014
"Neurons and Other Memories" Opens at CMU's Miller Gallery
Contact: Pam Wigley / 412-268-1047 / pwigley@andrew.cmu.edu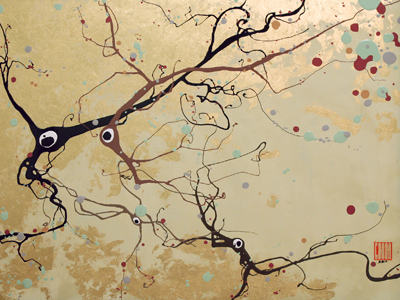 PITTSBURGH—Appreciating art may be something that comes from your heart, but there's another vital part of our bodies that relates to art. You'll find the connection at Carnegie Mellon University's Miller Gallery this month when the gallery features "Neurons and Other Memories ... Work In and Around the Brain" from Friday, Oct. 10, through Sunday, Oct. 26.
Curated by Adjunct Associate Professor Patricia Maurides in collaboration with the Center for Neural Basis of Cognition (CNBC), a joint program between CMU and the University of Pittsburgh, the exhibition features investigations, translations and reflections of neural mechanisms by artists and neuroscientists. Work includes themes in neuroanatomy, perception and memory. The exhibition opens to the campus and the public with a free reception from 5:30 - 8 p.m. Friday, Oct. 17.
The reception coincides with the first day of the CNBC's 20th anniversary celebration, which includes a series of events that take place on both the CMU and University of Pittsburgh campuses, Oct. 17 - 18. The CNBC integrates Pitt's strengths in basic and clinical neuroscience with Carnegie Mellon's strengths in psychology, computer science, biological sciences and statistics to investigate the neural mechanisms that give rise to human cognitive abilities. The center also trains the next generation of neuroscientists through an interdisciplinary graduate and post-doctoral training program and fosters close collaborations between faculty.
The anniversary's two-day event features panelists and speakers from the University of Pittsburgh and the Pittsburgh VA Hospital, Emory University, the James S. McDonnell Foundation, the University of Colorado Boulder, New York University, the University of Maryland and the National Institutes of Mental Health, among others. A poster session from 3-5 p.m. ends the conference Oct. 18.
"This exhibition is perfectly timed in so many ways," said Marlene Behrmann, the George A. and Helen Dunham Cowan Professor of Cognitive Neuroscience and CMU co-director of the CNBC. "We are thrilled to celebrate our 20th anniversary by welcoming distinguished speakers to Pittsburgh, and this exhibition at the Miller Gallery is an additional highlight to offer to our visitors and our own faculty, students, staff and neighboring residents."
"Neurons and Other Memories" is part of the Miller Gallery's fall schedule, which features nine events, five exhibitions, and one touring exhibition, collectively touting the talented works of more than 75 artists.
"This fall's slate of exhibitions appeals to such a variety of individuals," said Franco Sciannameo, associate dean of the College of Fine Arts and head of the programming/project team at the Miller Gallery. "From design to art to neuroscience, these works show the breadth and depth of the Miller Gallery's content going forward. We're proud to welcome local, regional and national artists and their works."
For a full slate of events, visit www.cmu.edu/millergallery for specific dates and times.
      
###
Photo Above: Synaptogenesis, Greg Dunn, enamel on composition gold leaf