November 18, 2015
Tell It To Me: Hispanic and Latino Children Learn "Cuéntamelo"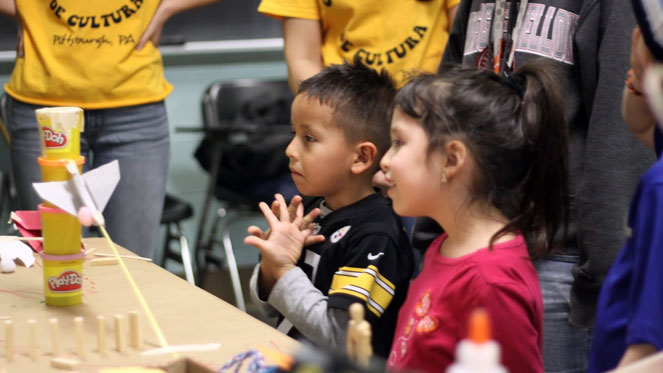 Children from Pittsburgh's immigrant Hispanic and Latino communities have spent their Sunday afternoons this fall drawing comics, creating games and writing plays—all while improving their Spanish skills—as part of this semester's El Círculo Juvenil de Cultura.
Established in 2007 by Carnegie Mellon University's Department of Modern Languages, El Círculo aims to keep Latino children speaking Spanish, familiarize them with their native culture and create a sense of community. The Hispanic Studies outreach program taps into the rich multidisciplinary resources available on the Carnegie Mellon campus—particularly in the arts and technology—to develop biannual workshops.
This year's fall workshop, Cuéntamelo ("Tell it to me"), is a multimedia storytelling lab for children between the ages of five and 12. Drawing inspiration from Latin American and Hispanic folktales, children are creating stories using a wide variety of media. The stories—which will be written and told in Spanish—will take many forms, including comics, digital animation, games, theatrical performances and video.
"Our aim is to provide a space to develop cultural and linguistic knowledge within a thematic, project-based workshop. In this particular workshop, the goal is to learn about Latin American legends and stories as well as the potentials of different media to tell a story," said Mariana Achugar, associate professor of Hispanic Studies and second language acquisition and co-director of the program.
Felipe Gómez, associate teaching professor of Hispanic Studies, co-directs El Círculo with Achugar. His current research on Hispanic and Latino comic books and graphic novels dovetails with the module developed by Juan Fernández, a local comics artist and CMU alumnus who is teaching the kids about narrative storytelling through comics.
"Children respond intuitively to comics making," said Fernández. "If a child wants to incorporate something into a story, but doesn't have a way of abstracting the character, location, object or action into words, they simply draw what they imagine."
The workshops rely on the support of CMU undergraduates and community volunteers like Fernández, who develop content that will appeal to children of various ages and linguistic profiles—from fully competent bilinguals to children with comprehension but no speaking abilities in Spanish.
"I've found that comics are an especially useful tool for storytelling because they can equally engage children with varying linguistic competence in Spanish," Fernández added. "They get to tell exciting stories that they have full ownership over while getting better at Spanish."
From 3:00 to 4:00 p.m. on Sunday, December 6, Cuéntamelo will culminate in a showcase where children can share what they've learned and created with their families, friends and the broader Pittsburgh community. In addition to presentations, the event will include a potluck meal and a brief awards ceremony.
Previous workshops have focused on a wide variety of topics including digital literacy, the environment, food, music and dance.
_____
By Emily Stimmel