May 15, 2015
Digital Dreams: Circulo Juvenil Brings Digital Learning To Hispanic Children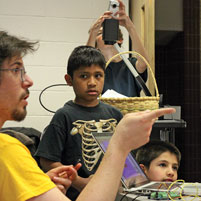 Local Hispanic children spent the past semester interacting with digital technology, thanks to a special program in the
Department of Modern Languages
.
El Circulo Juvenil de Cultura
, a Hispanic Studies outreach program, hosted "Sueños Digitales," or "Digital Dreams" for 20 Spanish-speaking children. Every semester since 2007, Circulo Juvenil has held similar workshops – all designed to use arts and technology to keep Latino children speaking Spanish, familiarize them with their native culture and create a sense of community among them and their families.
Previous workshops have focused on the environment, community, food, music and dance, among others, but this time, Circulo Juvenil's leadership team – Professors Mariana Achugar, Kenya Dworkin and Felipe Gómez – decided to tackle digital literacy.
Gómez, associate teaching professor of Hispanic Studies, said that some of the children have been interacting with digital technology since the earliest stages of their lives, and they wanted to go beyond giving them access to it as tools for self exploration, identity and expression as they had previously done.
"We were interested in giving the kids an opportunity to learn some of the basics of digital literacy, some simple programming skills, an understanding of how webpages, videos or digital images can be created and modified through coding, a view of how robots and machines can work to perform tasks created by humans. In a sense, we wanted them to know that they can not only use these tools, but also create them," said Gómez.
To expose the students to this, Circulo Juvenil received funding from the
Sprout Fund
and
Remake Learning Digital Corps
. Digital Corps aims to help educational organizations meet the urgent demands of digital literacy by recruiting, training and deploying digital learning experts to after-school programs throughout the Pittsburgh region. They supplied materials and a pair of newly trained bilingual instructors to lead the workshop.
"It's not just about jobs or school, though those are predominant and really important factors," said Ani Martinez, Digital Corps manager, of the organization's goal. "But, also just knowing how the world around them functions, how people communicate. The Sprout Fund designed the program to train host-site staff, as well as the young participants, in digital literacy."
Throughout the workshop, the students had the opportunity to learn and experiment with digital tools for learning and creativity, such as
Scratch
,
Thimble
and CMU Create Lab's
Hummingbird
. They also developed skills that they will need to thrive in school, college, the workforce and life.
"The children were motivated from day one. Some of them knew more than others to start with, but they all wanted to know more, and they often stayed late to keep working on their projects and to share them among themselves and with their families," Gómez said.
In addition to the support from the Sprout Fund and Digital Corps, Circulo Juvenil received essential assistance from a team of volunteers – including CMU students and alumni and members of Pittsburgh's Hispanic and Latin community – to make the program a success.
Gómez credited the whole team for making it an effective workshop.
"Our instructors and volunteers were wonderful and they made sure to encourage the kids to keep experimenting and tinkering instead of telling them how they should do things," he said. "Parents would tell us how many of the kids kept working on their projects at home. They sustained their motivation throughout the eight weeks of the workshop, and at the end they all wanted more! It was a great success."
Circulo Juvenil will share some of what was accomplished through the workshop at the Digital Corps Spring Party on May 30 from noon to 3 p.m. in the Hill District. The event is free and open to the public.
Learn more.
_____
By:
Shilo Rea