December 09, 2015
The Ethics of Cyberconflict
By Ann Lyon Ritchie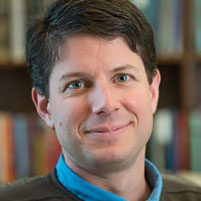 A philosopher by training, David Danks analyzes how we think about the world around us. As the head of Carnegie Mellon University's Philosophy Department in the Dietrich College of Humanities & Social Sciences, Danks is probing an emerging field of the ethics of cyberwarfare.
Danks has approached these issues from an interdisciplinary perspective, drawing on philosophy, psychology and technology. "I became very interested in the interaction between the humans—the limited, bounded humans that we are—and these new rapidly changing technologies. I was curious as to how we ought to behave," Danks said.
As the study of machine learning advances, leaders face major ethical challenges to know when and how to apply the use of autonomous computer systems. There are many questions, such as: If a military unit is placed on the ground with a computerized weapon system, will the soldiers trust a machine to do its job, or will they default to the trust they've developed in the person next to them in a combat situation?
Managing cyber technologies in the military is a challenge. For example, data theft and cyber surveillance fall into ethical gray areas as being both offensive and defensive tactics. Danks explains that "an ethical challenge in these types of situations is ensuring people have appropriate metacognition: they have to know what they will want to do in a crisis, since there won't be time to deliberate once it happens."
One such application is described in the Slate op-ed "Fight ISIS by Thinking Inside the Bot" he co-authored with Heather M. Roff and his father, Joseph Danks, a psycholinguist and director of strategic initiatives at the University of Maryland Center for Advanced Study of Language. The article describes the use of automated impersonation to cloud the online recruitment of extremists.
The questions Danks poses stretch from a high level of abstract thought in ethics down to tactical decisions of how funds are applied to technology, what policies to adopt and how applications can be used.
The Philosophy Department is working more broadly, in both research and education, on issues that arise in technology, engineering and the professions. Danks is working with Philosophy Professor Alex John London on ethical challenges arising from engineering research in autonomous vehicles.
Another colleague, Mara Harrell, associate teaching professor of philosophy, teaches a course called Engineering Ethics that discusses issues of humanity to consider theoretically before applying know-how to advance technology.
"Through philosophy, students learn to look for the ethical issues that arise in all aspects of an engineer's career. They leave the class knowing that every engineering design decision is an ethical decision, whether they are building bridges or software," Harrell said.
Carnegie Mellon's Institute of Strategic Analysis (CMU-ISA), a joint effort of the Dietrich College, School of Computer Science and the College of Engineering, embraces the cognitive issues Danks examines in his research.
The work of CMU-ISA attracts thought leaders in areas of U.S. defense, intelligence and diplomacy, as they seek to form procedures, regulations and policies. For example, U.S. Admiral Michael S. Rogers met with Danks among other CMU-ISA faculty when he visited campus in 2015.
As Danks urges students "to take seriously the constraints that we get from the cognitive sciences," decision makers are taking seriously the findings of his research.
Related Publications by David Danks:
The Moral Permissibility of Automated Response During Cyberwarfare
A Modern Pascal's Wager for Modern Electronic Surveillance
Beyond Machines: Humans in Cyber Operations, Espionage and Conflict