April 22, 2015
Born to Teach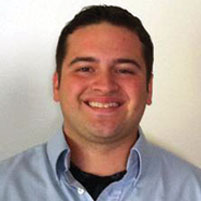 Dan Walter
did not always plan on a career as a teacher. But, when he taught as an undergraduate German major at Dickinson College, he fell in love with it.
Fast-forward to just a few years later, and Walter is not only teaching at Carnegie Mellon University, but he is winning awards for it. Walter is the 2015 recipient of the Dietrich College of Humanities and Social Sciences'
Graduate Student Teaching Award
.
"My favorite part about teaching is how the relationship with your students does not end in class. I still talk to students from seven or eight years ago that I taught as a Fulbright Scholar in Germany. It's great to see what they are doing," said Walter, a Ph.D. candidate in
second language acquisition
within the
Department of Modern Languages
.
At Carnegie Mellon, Walter has taught in both the Modern Languages and English Departments, teaching courses such as "Reading and Writing for an Academic Context" and "Elementary German I." He also spent a summer teaching English writing and presentation skills to international students as part of an intensive college preparatory program for entry into CMU-Qatar. Last fall, he served as acting director of Second Language Writing and supervised the
First-Year Writing Program
instructors.
Danielle Zawodny Wetzel
, teaching professor of
English
and director of the First-Year Writing Program, applauded Walter's ability to anticipate new teachers' questions and provide helpful solutions.
"When I first met Dan, he told me that he loved teaching more than anything else—he said that he loved to work with students. I have found that Dan's enthusiasm for his students and for his teaching has been consistent over the years I've worked with him," Zawodny Wetzel shared. "Dan represents the best of what the university offers to our students—his teaching is, without fail, always about the student's needs.  If Dan notices a problem, he works hard to address that problem.  More than once Dan has sent me a useful reading that he thinks might help us resolve a challenge in our curriculum."
Walter's self-described teaching style is flexible.
"I try to be receptive to the ideas that students have and incorporate their ideas into the class," he said.
He also stresses diversity in the classroom and strives to create a comfortable environment where students see their peers as resources and not competitors.
"We have a lot of first languages at Carnegie Mellon – not just English. It's important to incorporate the first language of the students in my class as background to learning German," Walter said. "The makeup of each class is different, and everyone needs to feel comfortable speaking and making mistakes."
Mimi Jung, a junior violin performance major, had Walter for Elementary German I.
"My favorite thing about having him as a teacher was how he made the idea of studying a language a skill which we could apply, not only to German, but to any other languages we would ever want to learn. He is an innovative teacher and constantly searches for better ways to help all of his students learn," Jung said.
When Walter completes his Ph.D. later this spring, he hopes to find a teaching job that matches his experience at Carnegie Mellon – where he says he looked forward to learning something new each semester, right alongside his students.
_______
By:
Shilo Rea