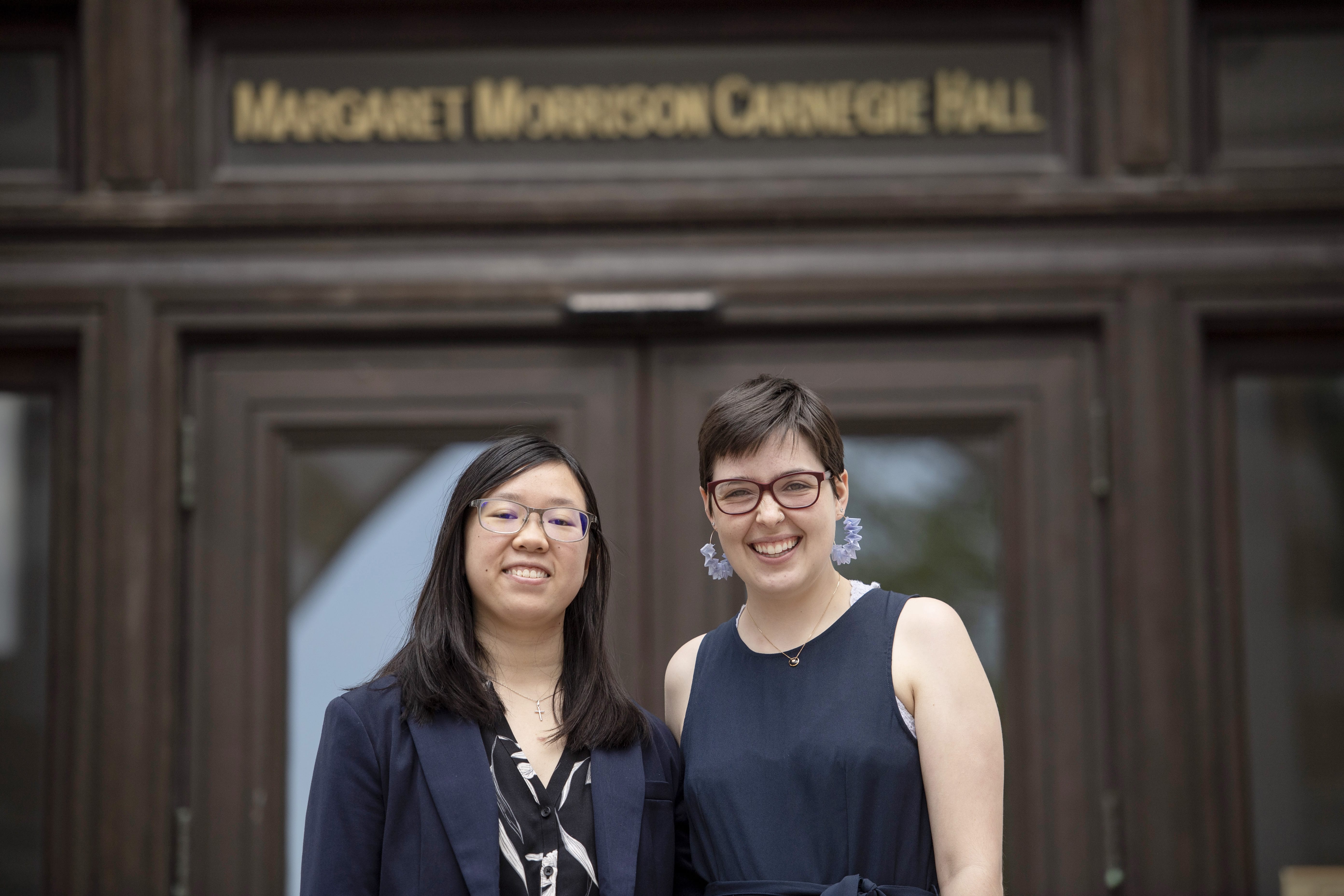 May 17, 2019
Two Promising Educators Recognized With the Gretchen Goldsmith Lankford Award
The Dietrich College of Humanities and Social Sciences selected Alexandra Halberstadt and Christine Phang as co-winners of the 2019 Gretchen Goldsmith Lankford Award. The annual prize goes to a graduating senior (or two, in this case) with a firm anchor in the college who have achieved academic distinction, demonstrated accomplishment and potential as a rising educator and who plan to attend graduate school and eventually enter into a career in teaching.
Halberstadt is graduating with a Bachelor of Science in biological sciences and psychology. She was one of nine Dietrich College Honors Fellows supported through a research grant last summer, and she received a Small Undergraduate Research Grant in the spring of 2019.
She was a teaching assistant for two psychology professors, Kody Manke and Kasey Creswell. She has also been a research assistant in Creswell's Behavioral Health Research Laboratory since 2015, where she assumed responsibilities to train other RAs in addition to lab work.
 "Alex is one of the sharpest students I've ever worked with, and her tireless work ethic and insatiable curiosity really make her stand out amongst her peers," Creswell said.
One of her assigned research projects was a federally funded research project to investigate risk factors for alcohol use disorder. In 2017 she completed an internship in the Noninvasive Neuromodulation Unit at the National Institutes of Health in Bethesda, Maryland.
"Alex is particularly good at getting students excited about course content, and she often uses examples from her research experience to explain concepts and make the material more relevant and accessible to the students. I am confident that Alex will go on to be an effective and passionate teacher in grad school and in her career as a professor of psychology," Creswell said.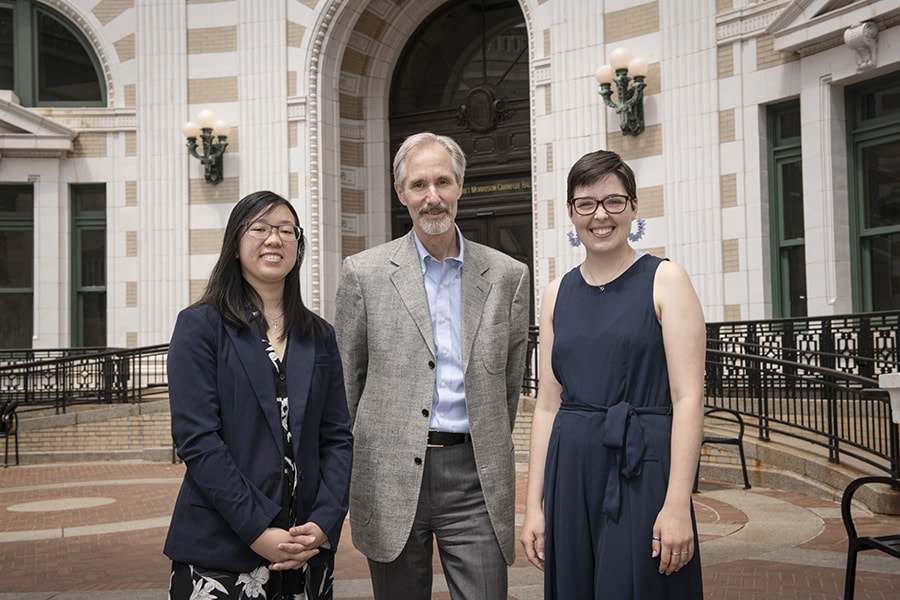 Christine Phang, left, and Alexandra Halberstadt, right, pose with John Lankford, son of Gretchen Lankford. He also is a Distinguished Service Professor of Management at the Tepper School of Business.
Phang earned a Bachelor of Humanities and Arts in fine art and psychology and a minor in religious studies, with university and college honors. She was active in the CMU Singapore Students' Association and CMU Shotokan Karate Club.
Phang interned at the Singapore Tyler Print Institute in summer 2017, where she assisted in printmaking and creative processes. She helped guide an art therapy program with Pleasant Valley Men's Shelter from 2017 to 2019. Her children's book "Snowdrop" was self-published in the fall of 2018.
At CMU, Phang embarked on developmental psychology and childhood development coursework in connection to CMU's Children's School. Sharon Carver, director of the Children's School, worked with Phang during her senior capstone to create "Little Mouse's Search," a children's book that explores a life's purpose.
 "In every interaction, Christine shows a positive attitude, quick learning and strong work ethic. She uses her sensitive and reflective approach to human interactions to understand a wide range of common feelings and frustrations, and then she purposefully addresses them in the stories she creates," Carver said.
Phang plans to pursue a master's degree in art therapy at Notre Dame de Namur University beginning in 2020. Prior to her graduate studies, she will spend time in Singapore where she will explore opportunities to teach art and assist in education for special needs. She also plans to continue to create children's books.
"Through both art therapy and creating children's books, I aim to use art to positively impact the socio-emotional well-being of young people. My hope is that through both these areas I can in some way assist others, especially children in achieving their full potential," Phang said.
Lankford Prize honorees receive a monetary gift and an inscribed book selected by the students' departments. The prize is named after the late Gretchen Goldsmith Lankford, a 1943 alumna of Margaret Morrison College and a 1990 public management alumna of the Heinz College. The donor held a deep conviction that "devoted teaching makes a difference in the lives of young people, helping them to fulfill their potential as intellectuals, citizens and as human beings."