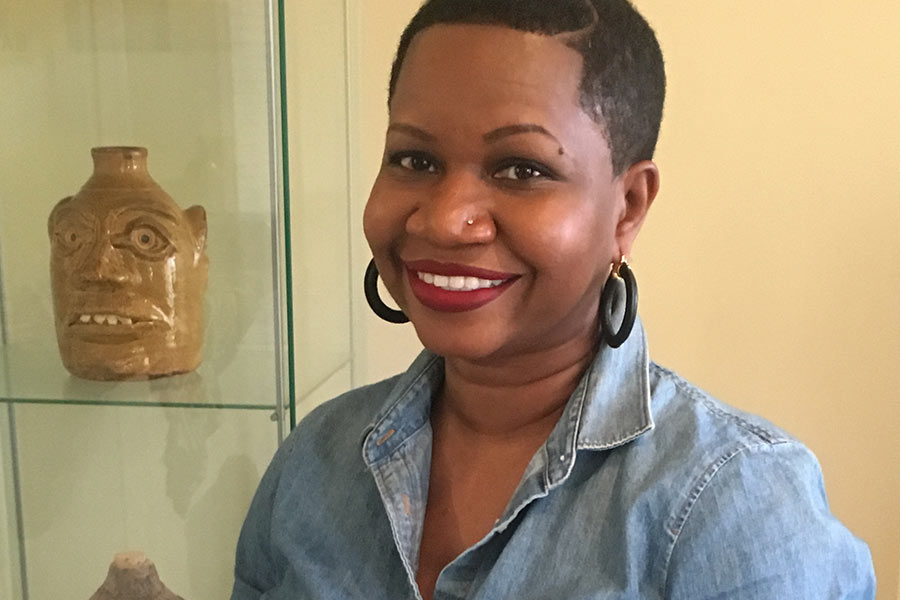 March 11, 2019
Deirdre Cooper Owens To Give Margaret Morrison Distinguished Lecture
Talk will focus on the creation of American gynecology on disadvantaged bodies
By Stefanie Johndrow

Deirdre Cooper Owens, an award-winning historian, will speak at Carnegie Mellon University's 13th annual Margaret Morrison Distinguished Lecture in Women's History.

Her talk, "Medical Bondage and the Birth of American Gynecology," will begin at 4:30 p.m., Thursday, March 28 in the Tepper Quad's Simmons Auditorium Side A. The event is free and open to the public, and it will kick off with a reception at 4 p.m.

Cooper Owens is an associate professor of history at Queens College, The City University of New York (CUNY), and director of the Program in African American History at the Library Company of Philadelphia, the country's oldest cultural institution.

In fall 2019, Cooper Owens will join the University of Nebraska, Lincoln's Department of History as the inaugural Linda & Charles Wilson Professor in the History of Medicine and director of the Humanities in Medicine Program. This will make Cooper Owens the only African American woman in the United States leading a health humanities program.

Cooper Owens' talk will be based on her recent book, "Medical Bondage: Race, Gender and the Origins of American Gynecology," which focuses on the lives of enslaved and laboring women whose bodies were used in experimental surgeries that created the specialty of American gynecology. Cooper Owens' book was the 2018 recipient of the Organization of American Historian's Darlene Clark Hine Award.

"Professor Cooper Owens challenges us to rethink stories we think we know.  She challenges us to confront how so-called progress often comes at the expense of disadvantaged bodies and lives. And she reminds us that science, a supposedly objective practice, is, in fact, deeply riddled with social biases," said Lisa Tetrault, associate professor of history and lead organizer of the Margaret Morrison Distinguished Lecture Series.

The Margaret Morrison Distinguished Lecture in Women's History is sponsored by CMU's Department of History, Center for Africanamerican Urban Studies and the Economy, Dietrich College of Humanities and Social Sciences' Grand Challenge Seminars and the University Lecture Series.

The lecture series is named for Margaret Morrison Carnegie, the mother of Andrew Carnegie, who founded Carnegie Mellon under the name Carnegie Institute of Technology. The institute was home to four schools, including Margaret Morrison Carnegie College, a women's college that closed in 1973. Margaret Morrison Carnegie College was the original home of CMU's History Department.