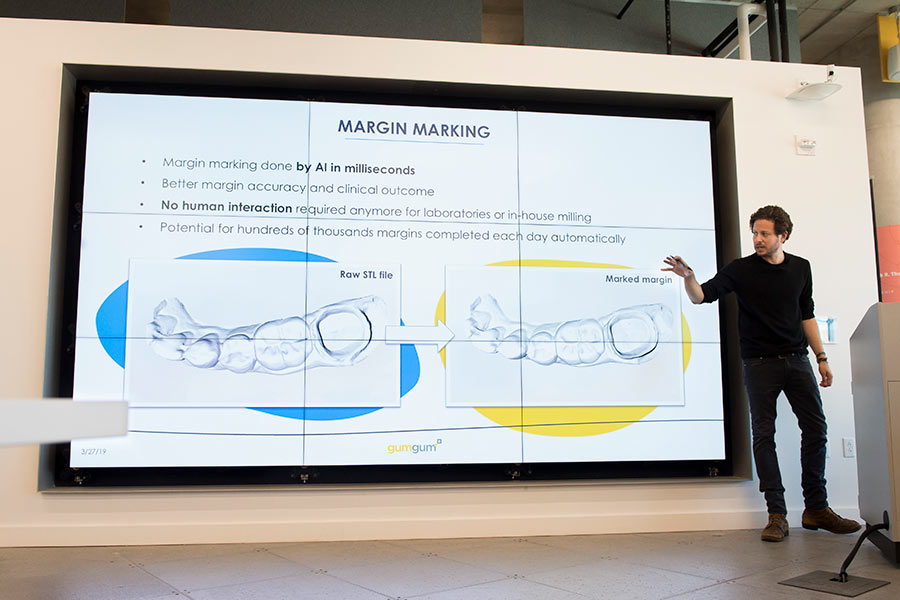 June 18, 2019
The Paradigm-Shifting Power of AI
By Stefanie Johndrow stef(through)cmu.edu
Before he even stepped foot on Carnegie Mellon University's campus, Ophir Tanz (DC, HNZ 2004) started and sold his first company. Tanz, an award-winning entrepreneur and technologist, returned to CMU this spring to share his experiences and how his company has changed the game.

Tanz — who graduated with his bachelor's and master's degrees in information systems management in four years — is the founder and former CEO of GumGum, an AI company focused on computer vision, which is approaching $1 billion in value. Under Tanz's leadership, GumGum revolutionized the digital media and sports marketing industries.

"We're particularly focused on computer vision, which is a field of artificial intelligence where we teach computers to sort of see, process and understand the world similar to how the human brain does," said Tanz.

First taking on the field of advertising, GumGum invented in-image advertising, which uses computer vision technology to scan images and videos across multiple platforms and place relevant advertisements where users are most likely to see them.

"We do think this is representative of what the future of advertising should look like," Tanz said. "If you think about what's happening here, we're returning real estate back to the publisher so that more of the content of the page can be devoted to actual content versus advertising."

Using technology to analyze broadcast television, GumGum Sports was created.

"We were thinking about, 'How could we apply this technology to this category in a way that would be impactful?' What we do is we identify every one moment when a sponsorship comes into view, we qualify the quality of that moment of exposure across six factors, we combine that with spot rate data, and we're actually able to back that into an economic value," Tanz said.

He continued, "That's really helpful because it provides a comprehensive measure across streaming, OTT (over-the-top technology), broadcast television and social media of what kind of ROI is being generated from these sponsorship efforts."

Tanz recently stepped down from his position at GumGum to lead Pearl, a GumGum spinoff that applies AI to dentistry by taking X-ray readings and using machine learning technology to diagnose and predict dental pathologies.

Pearl's system, Second Opinion, has the ability to number teeth and immediately identify 21 different pathologies, like bone loss and cavities.

"If this is confusing as to why we went from all of this media stuff to sort of healthcare-oriented opportunities, the idea behind GumGum was always to sort of develop this technology and apply it widely," Tanz said.

Prior to founding GumGum, Tanz co-founded and sold two successful digital media companies: the mobile-media sharing platform Mojungle and the award-winning interactive and branding agency Fluidesign.

An active member of the Los Angeles startup community, Tanz has been featured on the cover of Entrepreneur magazine and was named one of Goldman Sachs' 100 Most Intriguing Entrepreneurs in 2017.

"I invited Ophir to come talk, not only because he is impressively successful as an entrepreneur, but more importantly he is an extremely interesting, curious, well-read, thoughtful and creative person," said Richard Scheines, dean of the Dietrich College of Humanities and Social Sciences.

Tanz's talk was presented by the James R. Swartz Leadership Series and the Dietrich College Entrepreneurship Speaker Series. The series brings entrepreneurial thought leaders from around the country to campus to exchange views on leadership, entrepreneurship and innovation in today's competitive, global economy.

Past speakers include Javier Soltero, Lane Bess, Adam Gross, Vishwas Prabhakara and Sanjary Patel.