August 26, 2019
Executive Program in Behavioral Economics Provides a "Toolkit" for Local, Global Leaders
The Department of Social and Decision Sciences (SDS) hosted CMU's first Executive Program in Behavioral Economics from July 29 to Aug. 2. The program was designed to help executives strengthen their brand, engage consumers, improve employee well-being and institutionalize an evidence-based approach to organizational decision-making and change management.

Fifteen individuals attended the pilot program on CMU's campus, representing countries and companies around the globe, from United Arab Emirates to Triton College to Pittsburgh's own UPMC.

Behavioral economics began at CMU with the late Herbert Simon, a Nobel laureate in Economics, and current faculty member George Loewenstein, the Herbert A. Simon University Professor of Economics and Psychology. Loewenstein was a presenter at the program, along with Rick Mason, head of Behavioral Science at Voya Financial, and seven other CMU faculty, including SDS Department Head Linda Babcock, the James M. Walton Professor in Economics.

Talking about the genesis of the program, Babcock noted that CMU already has an undergraduate major in behavioral economics as well as a Ph.D. program. But she and her colleagues felt the need for more work in an applied nature.

"We wanted to train people to use findings from the field of behavioral science and economics to solve applied problems in the workplace," Babcock said.

Attendee Shauna Mullan-Smith is a senior manager in ethics and compliance at a global corporation. The program provided helpful information for her work long term, but also inspired an "instant project" she wants to address: her company's underutilized hotline for reporting fraud.

"Instead of saying 'Here's a problem; let's fix it,'" Mullan-Smith said, "it's about saying 'Am I sure that's the problem?'"

Mullan-Smith plans to test her assumptions about why people aren't using the hotline, and then implement solutions. Prior to the program, she said, "This kind of rigor wasn't really on my radar."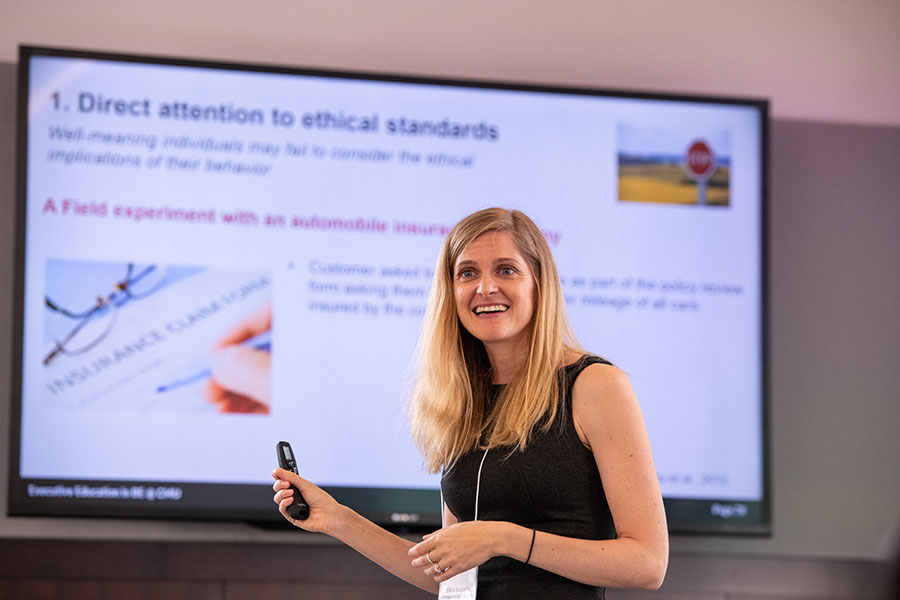 A senior advisor with a major city housing authority, Lynette De Johnette also immediately saw the program as an opportunity to add to her "toolkit." She studied economics as an undergraduate, but found that in her current position, she didn't always have the tools to understand or forecast her clients' behaviors—for instance, some clients were not willing to move out of affordable housing units once their income increased, and others were not taking advantage of obvious opportunities.

The program gave De Johnette "an opportunity to layer on the behavioral piece," helping her understand her audience. Her city's housing authority comprises approximately 20,000 brick and mortar units and between 40,000 to 60,000 housing choice vouchers, so the program's takeaways can be far-reaching.

"If I can understand my audience," De Johnette said, "I can better design around their needs. This program is groundbreaking."

On the last day of the weeklong program, participants presented their own organizational problems for feedback from attendees and faculty in a workshop format. Babcock described the program as "a little like drinking out of a firehose." But that intensity meant that people are excited about the applications.

"We've talked about building research relationships with the attendees and creating internships for our students. We're building a network of relationships among people doing behavioral science," Babcock said.

The next Behavioral Economics Executive Education Program session is planned for April 2020.