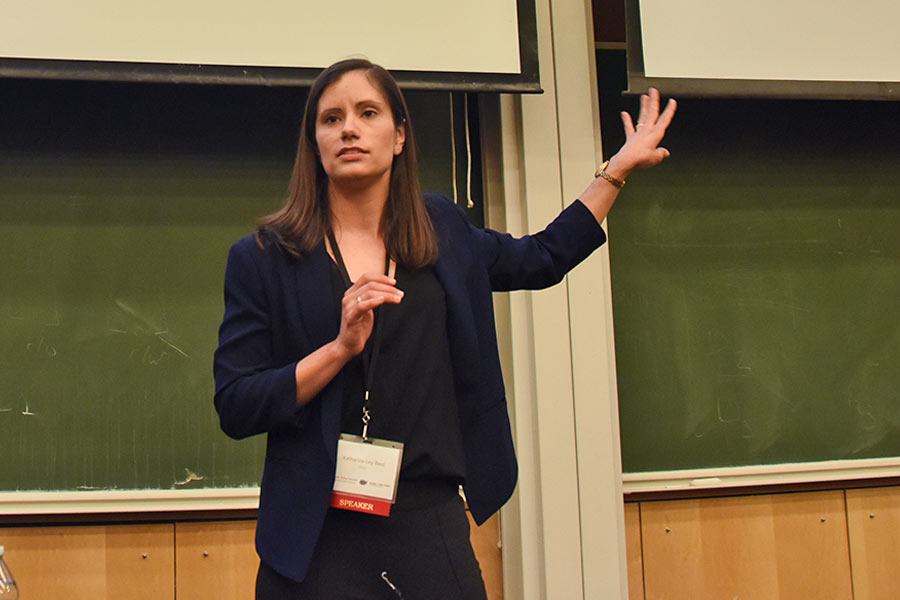 April 24, 2019
Celebrating Women in Data Science
By Ann Lyon Ritchie
Support for diversity attracts talent. Women in Data Science (WiDS) Pittsburgh at Carnegie Mellon University took place April 4–6 to generate interest in a growing field where talent is greatly needed.
The Department of Statistics & Data Science hosted the second annual event organized by Rebecca Nugent, associate head and director of undergraduate studies, and Ph.D. candidates Kayla Frisoli  and Amanda Luby. Graduate students including Shannon Gallagher provided volunteer assistance.
"It's amazing to be in a room full of women in data science," Gallagher said.
WiDS is an initiative made up of more than 150 satellite conferences worldwide. The conference attracts local and aspiring data scientists to support this in-demand profession that harnesses the power of big data for decision-making.
CMU is a leading research university in data science disciplines such as computer science, statistics, psychology and economics.
WiDS Pittsburgh@CMU showcased researchers and practitioners over three days, with a panel talk on Thursday for 160 registrants, a social mixer on Friday attracting 70 attendees, and a day of presentations and tech talks on Saturday for 170 registrants, sponsors and volunteers.
In opening remarks, Richard Scheines, dean of the Dietrich College of Humanities and Social Sciences, cited growing enrollment of women in statistics and data science, computer science and engineering. Last year, the university's incoming undergraduate class was 50 percent women for the first time.
"At CMU we are deeply invested in increasing the number of women in leadership in STEM fields," Scheines said.
Pooja Casula, a junior majoring in cognitive science, was among the conference attendees.
"It is a good way to see some current research and get inspired. You also see the industries where women are working and how they're applying data science," Casula said.
The Saturday sessions demonstrated the sheer breadth of data science applications, from public policy and organizational management, to machine learning and biomedical engineering. Katharina Best, an associate research department director and operations researcher at RAND, gave the opening keynote, and the day closed with a keynote by Rebecca W. Doerge, dean of the Mellon College of Science.
The CMU Master's in Computational Finance (MSCF) program facilitated the panel talk, "Data Science in the Finance Industry—Trends and Opportunities," in a classroom near the New York Stock Exchange that was live-streamed to the Pittsburgh campus.
The panelists were Sherry Marcus, managing director, co-head, at Blackrock AI Labs; Claudia Perlich, senior data scientist at Two Sigma; Lisa Schirf, former chief operating officer, data strategies group and AI research at Citadel; and Sameena Shah, managing director, head of data science, at S&P Global Ratings.
"Data science is called a science but is also a craft because you get better doing it over and over again," Perlich said.
The experts offered advice, described career paths and discussed issues such as automation and privacy. Nugent moderated the panel.
"We are so incredibly proud of the data science community in Pittsburgh and beyond. There really is not a richer location. It's an area of the country that is small enough that everyone gets to know everyone but rich enough to support an incredible array of undergraduate and graduate programs, industry partners, nonprofit, government, it's all here," Nugent said.
Event sponsors included Avenue 4 Analytics, Microsoft, Principal, Thermo Fisher Scientific and others. CMU's Heinz College of Information Systems of Public Policy, Amazon Alexa, Novetta, SymphonyRM and Target sponsored student scholarships.
"To be able to get everyone together working on really interesting, collaborative problems, that's a gift," Nugent said.
Pictured above: Katharina Best, associate research department director and operations researcher at RAND, delivers the Women in Data Science Pittsburgh keynote address.