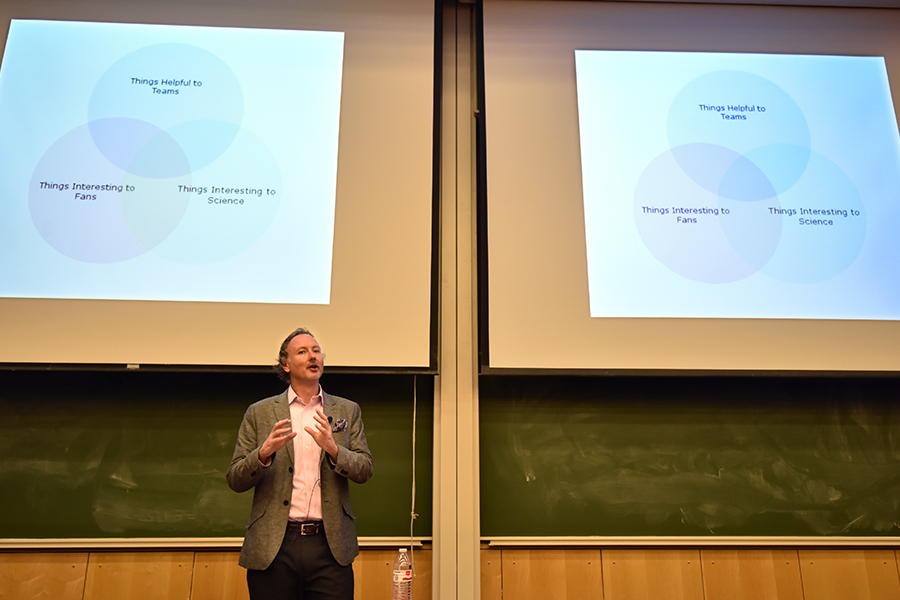 October 15, 2018
CMU To Host Sports Analytics Conference
Analytics are changing how sports are played, and experts at the forefront of the field are coming to Pittsburgh for the 2018 Carnegie Mellon Sports Analytics Conference (CMSAC). 
Open to the campus and public, the Saturday, Oct. 20, event will feature speakers from across the nation who will discuss applications of statistics and data science in professional sports, including baseball, basketball, hockey, horseracing and soccer.
 
Sherri Nichols, who is among the founders of baseball's Sabermetric Movement — popularized by the movie "Moneyball" — will deliver the keynote address, "You Don't Throw Like a Girl: Disrupting Expectations." While pursuing graduate studies at CMU's School of Computer Science, Nichols was part of a team that created the award-winning Andrew File System. Nichols' talk will focus on her experiences in the tech and sabermetrics communities, and how it relates to the world of analytics.
 
"We are very excited for this year's Carnegie Mellon Sports Analytics Conference," said Rebecca Nugent, associate head of the Department of Statistics and Data Science. "Last year's meeting really showed the energy, creativity and intellectual rigor in today's sports analytics community as well as the strong Carnegie Mellon ties to the field. This year we are proud to welcome CMU alumna Sherri Nichols as our keynote speaker, who, like many in our CMU family, saw possibility for change, persisted with data analytics on her side and 'changed the game.'"
 
Other notable speakers will join Nichols, including: Bill Benter, AvenueFour Analytics; Katherine Evans, Harvard University; Namita Nandakumar, Philadelphia Eagles; and CMU's Francesca Matano, Taylor Pospisil and Lee Richardson.
 
The conference will be preceded by a Football Analytics Workshop on Friday, Oct. 19, led by Statistics & Data Science doctoral student Ron Yurko. It will feature a Q&A with Michael Lopez, director of data analytics for the NFL.
 
CMSAC is sponsored by AvenueFour Analytics, the American Statistical Association, Carnegie Mellon University, Carnegie Mellon Sports Analytics, the Department of Statistics & Data Science and Diamond Kinetics.
 
For more information and registration, visit the conference website.
Pictured above: ESPN's Brian Burke delivering the keynote address at the 2017 CMSAC.