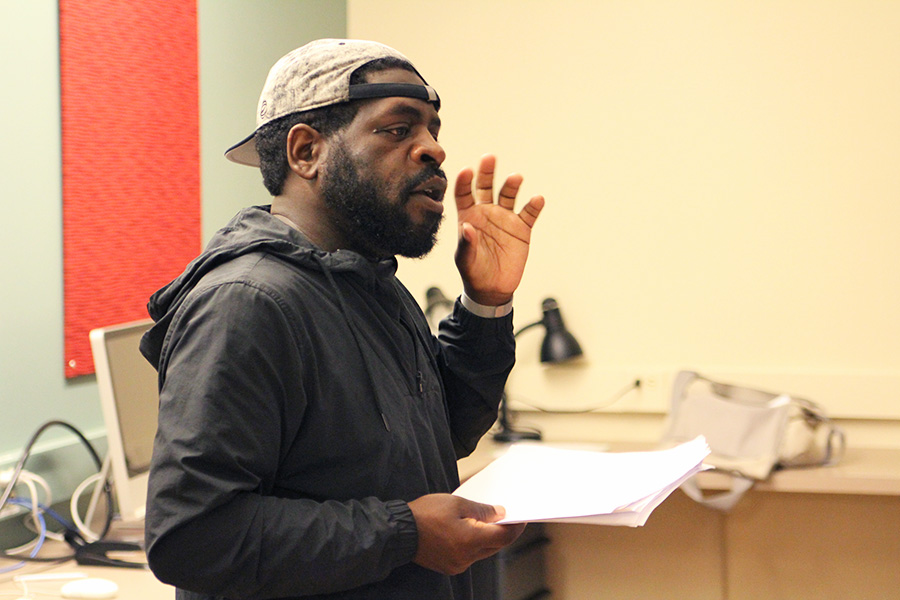 November 14, 2018
Martin Luther King, Jr. Day Writing Awards Launches Speaker Series
This October, Carnegie Mellon University's Department of English hosted acclaimed writers Hanif Aburraqib and Cameron Barnett as the first guests in a new speaker series presented by CMU's Martin Luther King, Jr. Day Writing Awards.
Abdurraqib and Barnett gave public readings and spoke in creative writing classes taught by Jim Daniels, the Thomas Stockham Baker University Professor of English and director of the awards.
Abdurraqib is a poet, essayist and cultural critic from Columbus, Ohio, whose first book "The Crown Ain't Worth Much" was named a finalist for the Eric Hoffer Book Prize and nominated for a Hurston-Wright Legacy Award. His first collection of essays, "They Can't Kill Us Until They Kill Us," arrived to great acclaim and multiple printings, and his next two books are scheduled for 2019 and 2020.
Barnett is a poet and teacher in Pittsburgh and the recipient of the O'Donnell Award for Excellence in Poetry. He holds an MFA from the University of Pittsburgh, where he was poetry editor for Hot Metal Bridge Literary Magazine. He teaches middle school language arts and social studies at Falk Laboratory School in Oakland, one of his alma maters, and he serves as a board member for The Bridge Series. His book "The Drowning Boy's Guide to Water" won the Autumn House Press 2017 Rising Writer Contest and was a finalist for the 49th NAACP Image Awards for Outstanding Literary Work in Poetry.
Pictured above: Hanif Abdurraqib gives a reading as part of the Martin Luther King, Jr. Day Writing Awards Speaker Series.