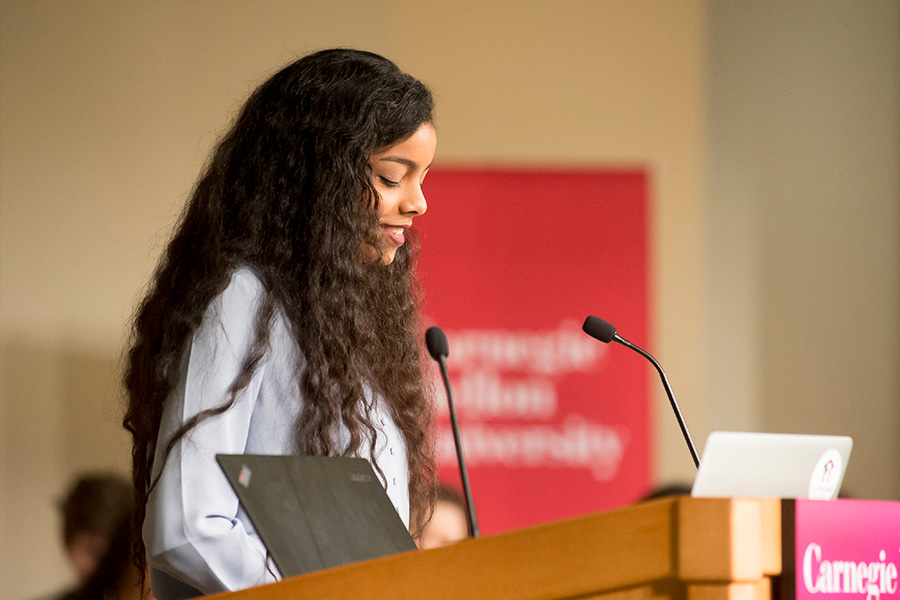 August 20, 2018
Students Share Difficult Experiences Through Writing Awards
In its 20th year, Carnegie Mellon University's Martin Luther King, Jr. Day Writing Awards has seen thousands of student-written pieces with topics tackling stereotypes, discrimination, diversity issues and more.
Open to high school and college students in western Pennsylvania—as well as students at all CMU campuses—the writing awards serve as a creative and safe outlet for students to have an honest conversation through poetry and prose about their experiences with racial and cultural discrimination.
"The 20th year of the awards represents a milestone that we want to acknowledge by getting more students and more schools involved as our society continues to struggle with these issues," said Jim Daniels, the Thomas Stockham Baker University Professor of English who founded and directs the awards.
A senior in the Department of English, Julie Heming's poem "At P.F. Chang's" placed second in the college poetry division at the 2018 awards. In her piece, Heming expressed the social challenges of being adopted:
Our waiter is a white boy
and the whole night I can see him
try to run the faulty equation in his head:
white parent + white parent
does not equal Asian child.
I want to tell him I'm just as perplexed,
that blue and red veins run through my skin
and the Korean and American flags
share the same colors, like bruises,
so even my blood is confused.
Maybe I should tell him that a boy
liked me just for my eyes,
a teacher told me of course I'd be good at math,
a friend asked if I could still love my brother
even though we don't share the same blood,
and new friends expect me to know
the difference between taiyaki and tteokbokki.
Placing first in the 2018 high school prose category, Emma Steckline, a student at Pittsburgh CAPA, used her piece "Where's Waldo" to analyze representation of the LGBTQ community, as shown in this excerpt::
"I never had any gay adults in my life before. I wanted somebody to look up to, somebody real, somebody who was proof that it isn't something I will grow out of like people have told me. Sometimes I forget, since I am surrounded by teenagers who are queer, that we really don't have that many role models. I remember seeing two women kiss each other and having to stop for a second. We might see this in social media, celebrities who have come out. But so rarely in real life do I witness the people who aren't famous. The people like me, LGBTQ+ people who don't have a platform, who just want to be."
Winning entries will be published and cash prizes will be awarded. Students will be invited to read their work at CMU on Martin Luther King, Jr. Day (Monday, Jan. 21, 2019).
Interested students may submit their poetry or prose entries online. Entries should be no more than 2,000 words, and students may submit up to two poems. Questions can be emailed to the Martin Luther King, Jr. Day Writing Awards. The deadline to submit is Friday, Nov. 23, 2018.
The Martin Luther King, Jr. Day Writing Awards are sponsored by CMU's Dietrich College of Humanities and Social Sciences, Department of English and the Center for Student Diversity and Inclusion.