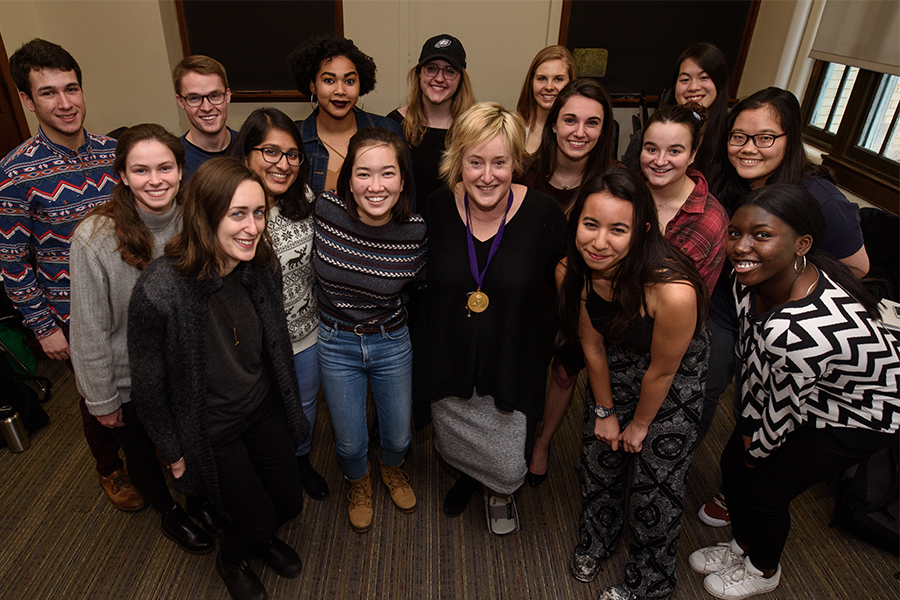 March 28, 2018
Lisa Tetrault Wins Dietrich College's Elliot Dunlap Smith Award
Lisa Tetrault, associate professor of history, has won the 2017-18 Elliot Dunlap Smith Award for Distinguished Teaching and Educational Service in the Dietrich College of Humanities and Social Sciences.
"Teaching revives and energizes me. It's an honor to teach," Tetrault said. "So I'm particularly honored by this award, for the thing I wake up everyday amazed that I get to do."  
Tetrault specializes in the history of U.S. women and gender, the history of social movements –particularly feminism—women's health, and the politics of memory. In 2015, Tetrault's book, "The Myth of Seneca Falls: Memory of the Women's Suffrage Movement, 1848-1898" won the inaugural Mary Jurich Nickliss Book Prize in U.S. Women's History.
"Lisa is an extraordinarily gifted scholar whose passion for her research is matched in equal measure by her passion for teaching and engaging with students every day," said Joseph E. Devine, associate dean for undergraduate studies. "Her goal as a teacher is not just to convey 'content,' but rather—in her own words— 'to help each student on their unique, individual journey and to remind them to be intentional about it along the way.'"
Devine continued, "One student after another supported her candidacy by calling her the 'most influential,' 'most memorable,' 'most valuable' professor in their Carnegie Mellon University experience. One student ended with the memorable thought that 'I doubt I will ever have a professor as insightful and real as Lisa again.'"
Learn about previous winners of the Elliot Dunlap Smith Award