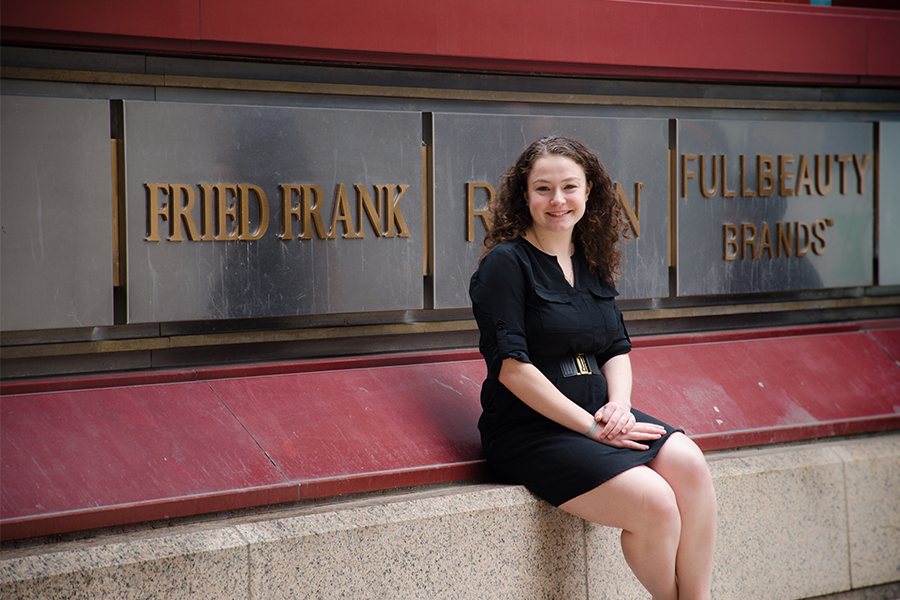 January 29, 2018
Catching Up With Recent Grad Sarah Gutekunst
By Shilo Rea

Professional Writing major Sarah Gutekunst (DC'17) spent the last semester of her Carnegie Mellon University career finishing her coursework, writing for the Tartan, working on her Senior Honors Program thesis and interning for the Dietrich College of Humanities and Social Sciences.
Gutekunst has spent the past seven months working as a communications assistant for international law firm Fried Frank in their New York City office. She recently talked to us about her experiences.
What has been the most exciting part of starting your professional career? Most challenging?
The most exciting and challenging parts of starting my professional career are actually one and the same. My whole life leading up to this point has been spent preparing for this. Now it's time to test whether I have prepared myself well enough to make it in a high-stakes career in a big city. It's been a challenge, but I know I'll always look back on this transition as one of the most exciting times in my life. 
How did your coursework prepare you?
Because I had no experience with law before I started, lessons from the style course helped me to cut through the jargon, identify the characters and actions and produce a clear and concise message that makes sense to a large audience. I also still remember the instructional writing unit from Intro to Professional and Technical Writing which has been useful as I've created how-to guides for processes I'm responsible for, including a 20-page instructional guide to our internal communications platform.
Looking back, how valuable was it to do a public relations internship for the Dietrich College before accepting a communications position?
I don't think I would be where I am today if it hadn't been for my Dietrich College public relations internship. Because of it, I was able to speak in my interview about my experience writing press releases, posting to social media channels, delivering on short deadlines and interviewing experts in technical matters. It also made me comfortable taking responsibility for and adapting my voice to a brand's message. These are all skills that I use daily and having that familiarity coming into the role has been a big help. 
What advice would you give to current students as they prepare to plan their futures?
Time is so short in college, and I tended to spend the majority of my time racing forward to the next assignment or meeting, rarely pausing to glance backward. But I've found this backward look to be essential in the workplace. Your managers will be concerned with your long-term growth, and you have to show them you are, too. Start to get in the habit of looking through each graded assignment you receive and take the time to understand every mistake. This attitude will serve you well in your career. I also recommend becoming familiar with a style guide, like the Associated Press, if you're interested in communications.
What do you miss the most about CMU?
What I miss the most about CMU is the feeling of belonging to a strong community. It's easy to feel disconnected in such a big city, and I loved the feeling that I could just walk into the Tartan office and find a group of friends, or just run into my adviser on the way to class and catch up. The people at CMU are really what continue to make it special to me.