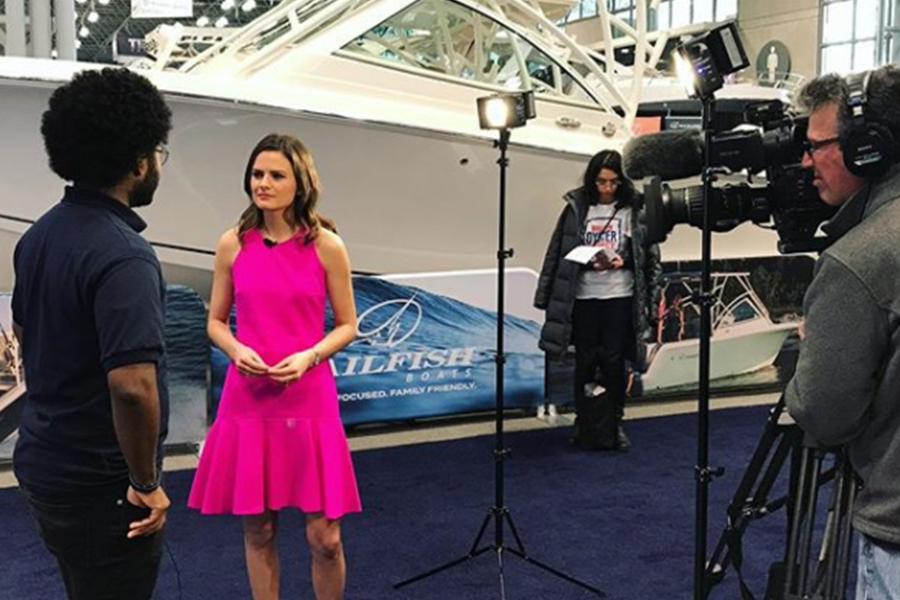 February 23, 2018
From CMU Classrooms to CBS News
Laura Podesta (DC'10) is proof that a humanities education from Carnegie Mellon University is a solid foundation for an exciting career. Podesta, who majored in history, was a star student in the Dietrich College of Humanities and Social Sciences, an Andrew  Carnegie Scholar and was elected as a fellow to Phi Beta Kappa, the nation's oldest honor society. 
Since graduating, Podesta has built a career in broadcast journalism, beginning with an internship while a CMU student. She is now a part of the CBS News team as a Newspath correspondent, reporting breaking news for CBS affiliates nationwide.
What are the best and most challenging parts of working in news? 
The best part of working in news is you never know what the day will bring! My assignment can change as swiftly as a tweet is sent. This also happens to be one of the challenges of working in news. My assignment can change as swiftly as a tweet is sent… and there are a lot of tweets.
How have you advanced in your career so far? 
I started my career at KDKA-TV in Pittsburgh! I was an intern for the second half of my senior year at CMU, working under Jill Neely, executive producer of Pittsburgh Today Live. She taught me how to write quickly, ask smart questions and keep the viewer engaged with compelling stories.
I got my first paid gig at News 12 Connecticut, working the graveyard shift—2 a.m. to 10 a.m.— as a freelance writer on their morning show. I kept pushing to do my own reporting and be on the air. After a few months, I landed a freelance reporter position at their sister station, News 12 The Bronx, where I was— what we call in the news business— a "one-man-band." I carried my own gear, shot my own interviews and on-camera stand ups, ran the material back to the station to edit the story and put it on the air. 
After two years in the Bronx, I signed a contract with KOAT-TV (Hearst) in Albuquerque, New Mexico and left my family, friends and boyfriend behind in New York City. I went far away to get better. KOAT-TV allowed me to work with photographers, so I could focus on writing and reporting.
After two and a half years in the "Land of Enchantment," I advanced to ABC 7 Chicago. (On a side note, my boyfriend had moved to Chicago while I was working in Albuquerque, which is partly why I chose Chicago. We are now married!) Chicago was a tremendous learning curve. I was working alongside people who had been in the business for decades and knew far more about the city than I did. I was also reporting for multiple newscasts and going live during tumultuous times. My report on protests over the death of a black teen at the hands of a white Chicago police officer was part of an Emmy award-winning newscast.
In October 2017, I joined CBS News as a Newspath correspondent based in New York City. I have always wanted to work for a major network, and getting the opportunity to travel and report on national stories for 200+ CBS affiliates nationwide is exactly why I set out to become a reporter in the first place. It's rewarding to know that my stories are now on KDKA— where I got my start as an intern! 
Why did you choose to attend CMU?
There are three reasons. The first might be an insight into how data-driven I am; whenever I filled out one of those quizzes that's supposed to match a senior in high school to their perfect college, I kept getting a 100 percent match with CMU! Secondly, on my campus tour, I truly felt like CMU was "home." And thirdly, because of the stellar reputation of the school— particularly the musical theater program. I tried to transfer into it…but was not accepted. Scotch'n'Soda Theater was my fallback, and I had a ton of fun performing. I was Edwin Drood in "The Mystery of Edwin Drood" my senior year.
How has your CMU education help prepare you in your career?
I was a history major at CMU, and it could not have better prepared me for my job as a correspondent. My assignments at CMU would often require me to read hundreds of pages a week, and then condense the major points of those chapters and write a paper with a compelling thesis that presents multiple arguments. I essentially do the exact same thing as a TV reporter; every day I'm sifting through pages and pages of information— or minute after minute of interviews or press conferences. I have to identify the key points, grab the essential sound bites, and deliver a report that is fluid and balanced. 
Are there any mentors— at CMU or professionally— who have helped you reach certain feats?
YES! Scott Sandage, associate professor of history, was my senior honors thesis adviser and was incredibly encouraging—and constructively critical. I sent him draft after draft of my 60-something page thesis about memorializing United Airlines Flight 93—the plane that crashed in Shanksville, Pa. on 9/11— and he would point me in new directions, asking me to explore different ideas. If I ever get the opportunity to produce a documentary, he'll be the first person I call.
I am also indebted to Laurie Zittrain Eisenberg, teaching professor of history who teaches the history of the modern Middle East, an area of the world that's constantly in the news. She broke down some of the most complicated issues between Israel and Palestine and made them easy to understand. She also taught me the importance of representing both sides of an argument; she wouldn't let a class go by without clearly laying out both the Arab/Palestinian and Israeli sides to a newsworthy event. 
Lastly, Thomas Douglas, director of choral activities and director of opera studies, who taught a music repertoire class. Every week he'd pick a new song for each student to learn and then sing in front of the others. If you didn't practice beforehand, and "faked" knowing the music, he'd make sure to call you out—in a nice way, of course. That class was a reminder that your performance always has a direct correlation with preparation.
What advice do you have for CMU students considering a career in news?
I would say DO IT— we need as many smart CMU grads populating our newspapers, TV networks, radio waves and websites as possible! I would also say get ready to work incredibly hard, hear a lot of "nos," wake up before a lot of sunrises and likely miss several holidays with your relatives. That's OK though— you'll become a member of this great big journalism family!
Pictured above: Laura Podesta (DC'10) is a part of the CBS News team as a Newspath correspondent.