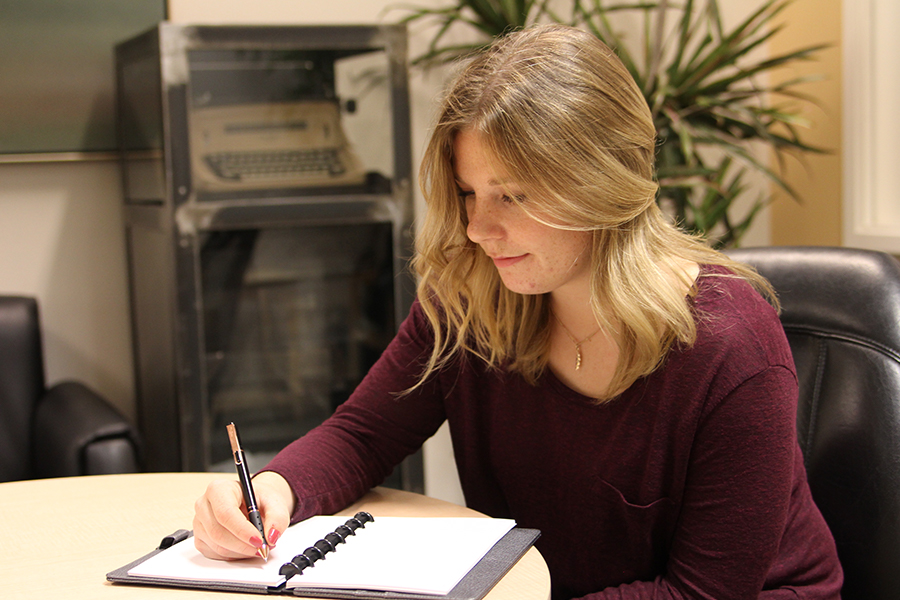 February 22, 2018
Behavioral Economics, Policy and Organizations Major Takes Off
By Stefanie Johndrow

Home to the co-founders and trailblazers of behavioral economics, Carnegie Mellon University recently created a first-of-its-kind behavioral economics, policy and organizations (BEPO) major to continue training the next generation of behavioral economists.
This spring, the Department of Social and Decision Sciences will award the program's first degree to Muriel Pokol. 
"I chose to add an additional major in BEPO as a junior," Pokol said. "I was very excited about the newly-created major. BEPO strongly aligned with my interests, and I was very excited to make it a focus in my academics."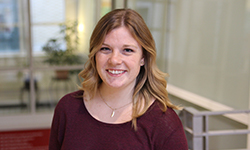 Muriel Pokol will be the first to graduate from the behavioral economics, policy and organizations (BEPO) program.
BEPO trains students to apply psychological insights to human behavior to explain and predict economic decision-making. At CMU, researchers use a unique fusion of economics and psychology to tackle some of the most complicated and costly problems, ranging from rising health care costs and workplace discrimination to climate change and "fake news."
Pokol is finalizing her capstone project, which focuses on naturally emerging leadership styles in group work and how it is related to group functionality. After graduation, Pokol plans to apply to both graduate school and business analytics full-time jobs and use what she's learned in the classroom.
"I plan on using behavioral economics to focus on marketing research and business analytics in a way that allows individuals and organizations to make better economic decisions," Pokol said.
There has been an explosion of interest by government, non-profit and industry organizations to hire trained behavioral economists. Governments seek to use behavioral economics to inform public policy and improve the effectiveness of governmental organizations. In industry, it is used to position brands, inform product design, adjust hiring and performance evaluations, motivate employees and improve the quality of employee savings, retirement and health plan decisions.
"It has been really exciting to launch our new major and create opportunities for undergraduate students to work on applied projects with our faculty who regularly partner with numerous governments and companies to use behavioral insights to solve an array of complicated problems," said Linda Babcock, the James M. Walton Professor of Economics and head of the Social and Decision Sciences Department in the Dietrich College of Humanities and Social Sciences.
Although Pokol will be the first to earn a BEPO degree, the program continues to grow. Mike Cheng is one of four juniors working toward a BEPO degree. A class he took during his first year sparked his interest in behavioral economics.
"Since in the field of public policies lies my ultimate objective of learning economics, it makes sense that behavioral economics was very attractive to me from the beginning, as it offers a new way of making connections from what we are doing in class and what is being practiced in the real world," said Cheng, who is also a student in CMU's Washington Semester Program.
BEPO courses teach students how to collect original data, design field and laboratory experiments, analyze data, and develop interventions to improve economic outcomes and decisions. And the students are learning from world-renowned experts, including Babcock, a prominent gender discrimination in the workplace expert who also focuses on behavioral labor and economics and negotiation, and George Loewenstein, the Herbert A. Simon University Professor of Economics and Psychology, a co-founder of the behavioral economics field.
"I liked a lot of the classes offered under my current course requirements, including the behavioral economics class taught by Mark Patterson," Cheng said.
Cheng added, "The most important and interesting thing about BEPO is the combination of psychological understanding of certain human behaviors and economic understanding of certain actions given certain conditions. I really enjoy how I am able to draw the connection between my past economic classes and something new in psychology and combine them to form a better understanding of the behaviors of Homo sapiens."