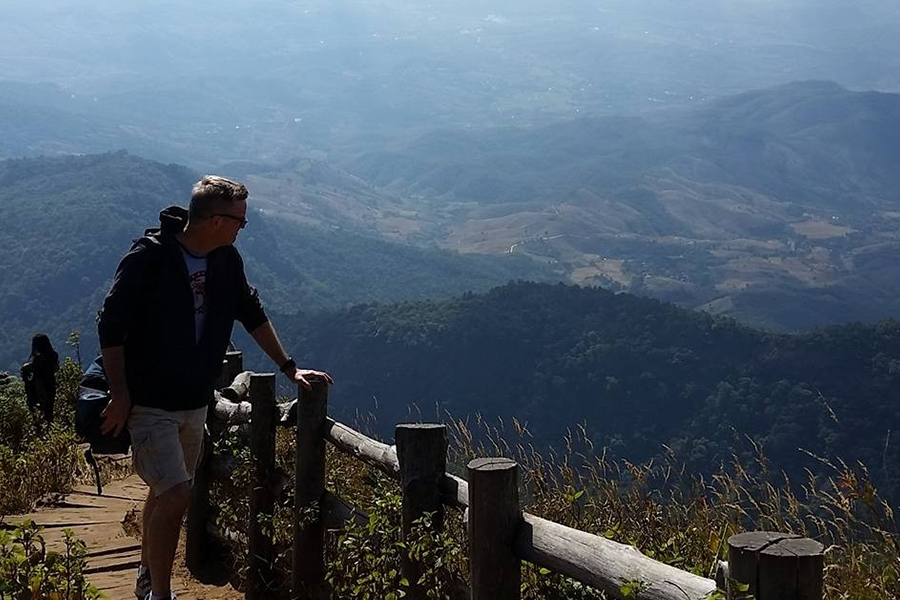 September 27, 2017
Public Health Communicator Makes a Global Impact
By Ann Lyon Ritchie
When researchers in Latin America and the Caribbean needed to collaborate on HIV/AIDS, Tim Ryan (DC '96) conceptualized and developed an information and communication system. At the time, he was "only" a technical writer associated with the Mexican National Institute of Public Health (INSP).
Ryan had gained the skills to make it happen as a Carnegie Mellon University graduate of the English Department's Master of Arts in Professional Writing (MAPW) program.
"Through the MAPW program I became equipped professionally in broad aspects of communication, such as project management and user-centered design. I would not have been as well prepared if I had gone through a narrowly focused technical writing program," Ryan said.
Globetrotting began for Ryan in graduate school when a CMU alumna, Nicole Vecchi (DC '86), offered him a summer coop at the Swiss Scientific Computing Center near Lugano. Since then, the Massachusetts native has lived in five countries and visited more than 40, all while building up a public health communications career that has fueled his travel.
The World Health Organization (WHO) learned of Ryan's work at the INSP in Mexico when it brought him to Geneva.
At WHO, Ryan served as project manager to develop a low-bandwidth solution for health care providers in Sub-Saharan Africa. He hired Steve Kuhn (A '97), a graduate of the CMU School of Design's Master of Design, Communication Planning and Design program, to lead the interface design. The product later evolved into the Knowledge Gateway—one of the most popular information systems used by health and development professionals in every country of the world.
"It was great working with Tim. It's always fulfilling to work on a project that's both a good design challenge but also has a worthy impact on the world. I was glad to be part of it," said Kuhn, who is a product manager at a Brooklyn-based digital product consultancy.
"The MAPW program has an outstanding track record of preparing students for careers as writers, communications specialists and information designers to work in the new information era, an era in which it no longer suffices to only be able to write clear and effective prose. Though excellent writing remains foundational, it is also now necessary to create and execute complex information strategies involving both visual and verbal elements and media ranging from print and online to multi and social media. Tim exemplifies the resourceful, multi-dimensional communication professionals we help prepare," said Chris Neuwirth, professor of English and human-computer interaction and director of the MAPW program.
Today, after eight years in Thailand that included communications work for the U.S. Centers for Disease Control and Prevention, Ryan lives in Geneva, again. This time, he works for Unitaid, a global organization helping defend the world against devastating infectious diseases by facilitating projects such as improving treatments for children with tuberculosis and promoting self-testing for HIV.
Ryan explains that some nations need not only greater access to existing health measures, but also new new ways to prevent, diagnose and treat HIV/AIDS, tuberculosis and malaria more quickly, more cheaply and more effectively. Unitaid identifies and invests in such new health solutions.
As the grants performance manager, Ryan leads, develops and maintains the quality management and business improvement systems that are needed for effective grant implementation and performance at Unitaid.
His ability to move into a leadership role stems from "intellectual honesty" he developed in the MAPW program, Ryan explains. It helps him to scientifically recognize and promote the best possible solutions, even when it means putting aside traditional approaches or his own initial conclusions.
Ryan brings together an impressive skill set with a global perspective—plus intellectual honesty—to move a technical writing career on an upward trajectory in public health communications.
"Unitaid has been an amazing opportunity that allows me to apply several of my professional strengths and interests, namely communication science, quality management and health, within an outstanding organization that is applying an innovative approach to achieve tremendous public good," he said.
Currently a resident of Geneva, Tim Ryan has been able to travel the world while rising in his career.