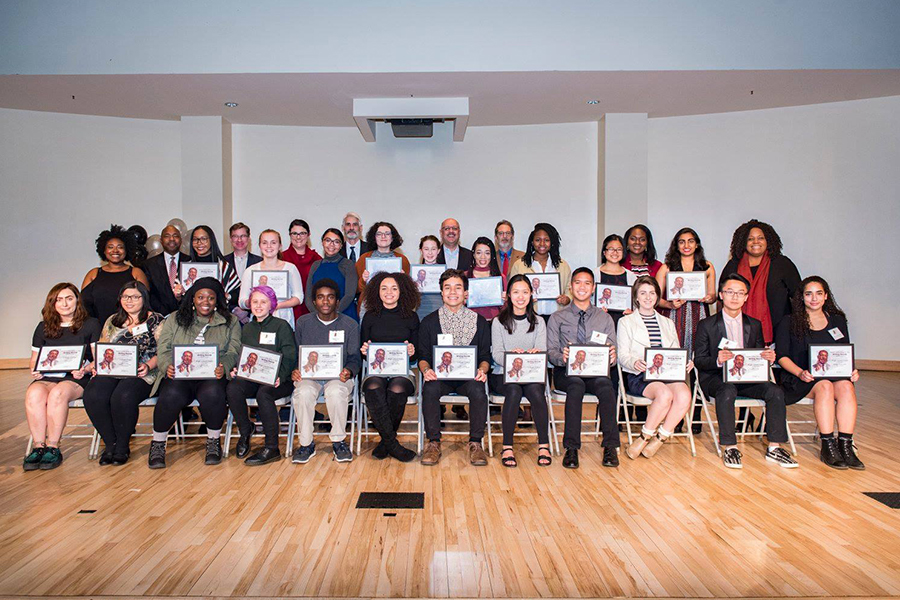 September 13, 2017
Students Channel Emotions, Experiences with Discrimination Through Writing Contest
From assumptions made based on stereotypes to cruel comments about skin color to understanding politics in the U.S. and abroad, teenagers and young adults are not immune to diversity issues.
Since 1999, thousands of western Pennsylvania high school and college students have chosen to react to discrimination by writing about it. Carnegie Mellon University's Martin Luther King, Jr. Day Writing Awards serve as a creative and safe outlet for high school and college students to have an honest conversation through poetry and prose about their experiences with racial and cultural discrimination.
"Young people need to be a part of this important national conversation and have their voices heard," said Jim Daniels, the Thomas Stockham Baker University Professor of English who founded and directs the awards program.
The 2017 winning high school prose entry by Djibril Branche was a step-by-step guide to "Being a Minority in a School of the White and Privileged." At the end, Branche confided that once making it through primary and secondary schools, the rules change all together.
The prejudice Katherine Huang has experienced as an Asian American was the focus of her college poetry piece which placed first at the 2017 awards. In her poem "Microdermabrasion" Huang wrote:


Asians can play two instruments and tennis.
Asians in America are either bananas/Twinkies or FOBs.
Asians must be good at math.
Asians can draw.
Asians are shy.
Asians are obedient.
Asian immigrants speak English broken pidgin funny.
Asians have no eyes.

Cash prizes will be awarded and winning entries will be published. Students will be invited to read their work at CMU on Martin Luther King, Jr. Day (Monday, Jan. 15, 2018).
Interested students may submit their poetry or prose entries online as separate Microsoft Word attachments (.docx preferred). Entries should be no more than 2,000 words, double-spaced. Students may submit up to two poems. Email questions to Jim Daniels. The deadline is Friday, Nov. 24.
A selection of poetry and prose pieces from the awards' history will be published in an anthology, "Challenges to the Dream: The Best of the Martin Luther King, Jr. Writing Awards at Carnegie Mellon University," this October. The book will be published by CMU Press and includes 91 poetry and prose pieces from 83 writers.
The Martin Luther King, Jr. Writing Awards are sponsored by CMU's Dietrich College of Humanities and Social Sciences, Department of English, Division of Student Affairs and the Office of the President.