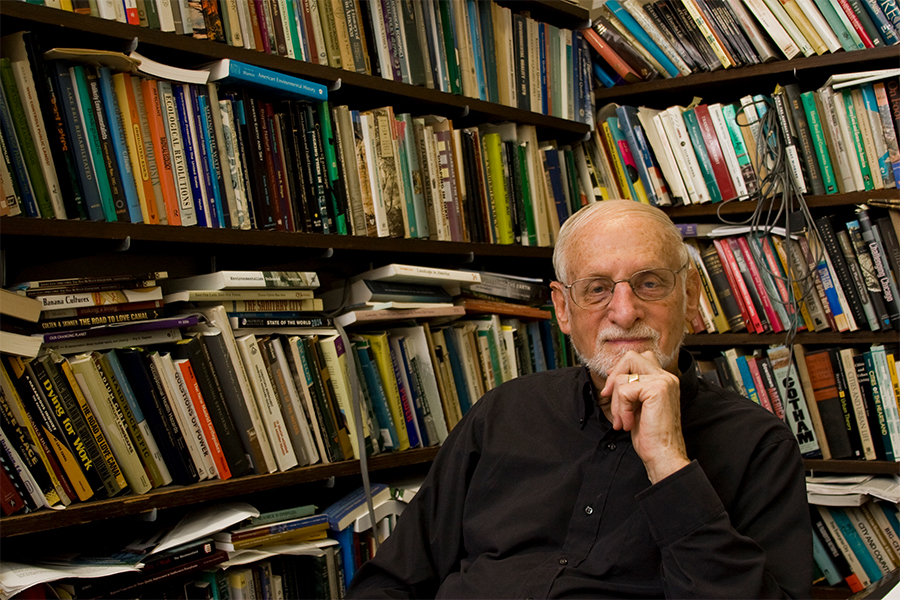 September 27, 2017
Event: Crossing Boundaries, Building Bridges: Joel Tarr's First 50 Years at Carnegie Mellon University
By Shilo Rea
Few people know the history of Pittsburgh better than Joel Tarr—or better understand the relationships between cities, the environment and technology—or can tell you more about the history of Carnegie Mellon University.
Tarr has called CMU his home away from home for five full decades and we want to honor this milestone. We invite you to a celebration of his achievements as an educator, researcher, historian and outstanding university citizen. On Thursday, Nov. 9 at 5 p.m. in the Heinz Rotunda. The program will feature tributes by professors from all across campus, including Alfred Blumstein (Heinz College), David Dzombak (Civil and Environmental Engineering), Francis McMichael (Engineering and Public Policy), David Klahr (Psychology Department) and Steven Schlossman (History). Interim President Farnam Jahanian and Dietrich College of Humanities and Social Sciences Dean Richard Scheines will also offer remarks on Tarr's distinguished career.
Tarr is the Richard S. Caliguiri University Professor of History and Public Policy in the Department of History in the Dietrich College. He has additional appointments in the Heinz College and Department of Engineering and Public Policy. He served as acting dean of the Heinz College (SUPA, 1986), associate dean of the Dietrich College (then the College of Humanities and Social Sciences (H&SS), 1988-91), acting dean of H&SS (1991-92) and acting head of the Department of History (1992-93).
Tarr studies the history of the urban environment and the development of urban technological systems. He has directed twenty-four doctoral dissertations. He has served on National Research Council committees dealing with issues of urban infrastructure, public transit, and water pollution. He has directed or co-directed research projects from the National Science Foundation, the National Oceanic and Atmospheric Administration, the National Park Service, the National Endowment for the Humanities and numerous foundations.
In 1992, CMU awarded Tarr the Robert Doherty Prize for "Substantial and Sustained Contributions to Excellence in Education." In 2008, the Society for the History of Technology awarded him the Leonardo da Vinci Medal, the Society's highest honor, bestowed to an individual who has made an outstanding contribution to the history of technology through research, teaching, publication and other activities. In 2015, the American Society for Environmental History awarded Tarr its Distinguished Service Award, given to an individual who has contributed significantly to the development of ASEH as an organization.
Crossing Boundaries, Building Bridges: Joel Tarr's First 50 Years at Carnegie Mellon University
Thursday, Nov. 9, 2017
5 p.m. – Registration and informal networking
Light hors d'oeuvres, beer and wine will be served.
6 p.m. – TED-style talks and Q&A

7 p.m. – Dessert Reception
Dessert, beer, wine, coffee and tea will be served.

Heinz Rotunda, Hamburg Hall, CMU
RSVP