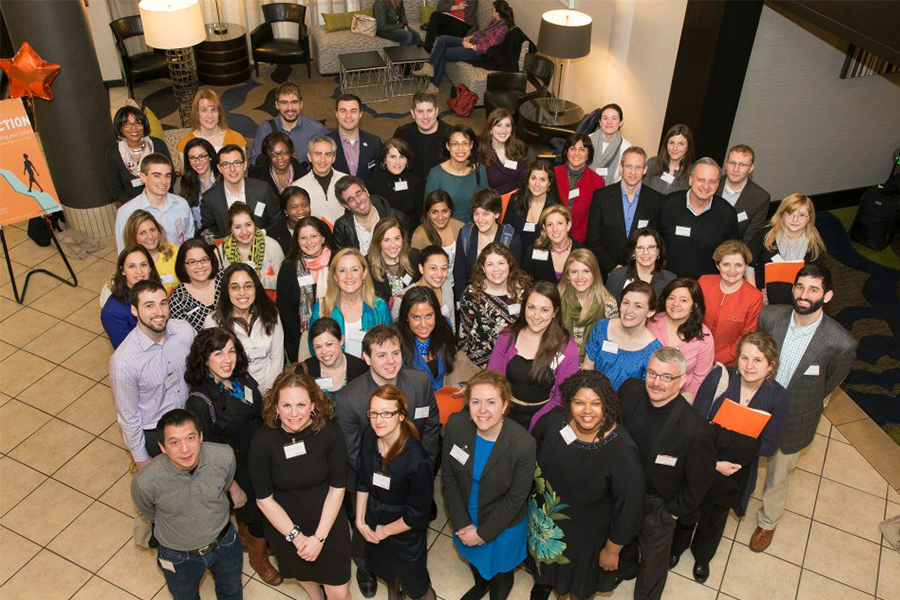 October 13, 2017
Never Fear, Dietrich College Sophomores… Alumni Are Here!
Navigating the phases of an internship can be tricky. Luckily for CMU Dietrich College of Humanities and Social Sciences sophomores, they'll have access to 25 alumni to pick their brains about dos and don'ts and secrets to success when gaining valuable work experience.
Under Construction: Internships will bring alumni back to town on Nov. 9. Students will network with alumni at the Wyndham Pittsburgh University Center and enjoy dinner. Matt Hannigan (HNZ '02), the deputy director of The Sprout Fund, will give the keynote on how the internship can serve as a learning opportunity for students to test out their interests and to build out their professional skills.
Then, the alumni will share their career experiences and offer tips to students for attaining and finding success in internships.
Unsure about attending Under Construction? Sarah Gutekunst (DC'16) had qualms about the importance of this event as an undergraduate, but at the end of the day found in alumni a source of support and relatable advice.
"CMU students are so lucky to have access to so many experienced faculty, alumni and staff, all working day in and out to help students like me succeed," Gutekunst said. "Dietrich College students are especially lucky to have the opportunity to build their future at Under Construction." 
Jen Keating, assistant dean for educational initiatives in the Dietrich College, is working hard to build a program that will do something amazing for students.
"It is easy for students to think that the career path will move neatly from choosing an area to study to internships to job opportunities.  But life and career trajectories don't really work that way. Hearing about the successes, failures and way-finding that alumni from Dietrich College have undertaken in a variety of fields, industry domains and locations is an exciting way for sophomores students to get excited and inspired about career explorations through internship experiences," Keating said. 
Current Dietrich College sophomores must RSVP by November 3rd to participate in Under Construction: Internships. 
Dietrich College Alumni Attending Under Construction: Internships 2017
Juan Acosta, Consultant at Booz Allen Hamilton
Global Studies and Hispanic Studies, 2015 
Beth Bauer, Head of Analytics at QuintilesIMS
Psychology, 1989
Mavis Burks, Strategy and Operations Manager at Deloitte
Anthropology and History, 2002
Sarah Ceurvorst, Visual Arts Faculty at The Ellis School
BHA in Psychology and Art, 2013
Alex DiClaudio, Producer at DiClaudio Productions, LLC
Economics, 2009
Peggy Doyle, Co-Founder of What Now What Next Media LLC
English, 1984 
Daniel Giesey, Client Service Assistant at Campos Inc
Ethics, History and Public Policy and German, 2008
Elyssa Goodman, Writer/Photographer at Miss Manhattan
Professional Writing, 2010
Matt Hanningan, Deputy Director at The Sprout Fund
Public Policy and Management, 2002
Peter Hendrickson, Health Economist at US Department of Health & Human Services
Policy and Management, 2012
David Hilliard, President of Symphony Development
Economics, 1973
Joanna Lovering, Senior Director at HALO Academy
BHA in Drama and Psychology, 2004
Kanishka Maheshwari, Director of Product Management at Salesforce
Information Systems, 2006
Francis Matten, Division Sales Manager for Goldman Sachs Asset Management
Psychology, 1981
Tricia Nelson, Senior Marketing Manager at TiVo
Professional Writing, 1992
Lydia Remington, Senior Clinical Informatics Analyst & Educator at Johns Hopkins HealthCare
Policy and Management, 2010
Susan Steele, Executive Partner at IBM Corporation
Professional Writing, 1980
Jeremy Toeman, VP Product Management for CNET Networks
Economics, 1996 
Anna Vande Velda, United Way Pittsburgh
Psychology, 2015
Sam Ventura, Director of Hockey Research for Pittsburgh Penguins
Statistics, 2011
Dan Wallace, CEO of FirstKey Mortgage
Information and Decision Systems, 1991
Beverly Wheeler, Director, D.C. Hunger Solutions
MS, Public Management and Policy, 1978
Social Relations, 1976
Courtney Wittekind, PhD Student at Harvard University
BHA in Anthropology and Art, 2013
Debbie Yue, Partner at Gallagher Sharp LLP
Technical Writing, 1989
Farah Zaman, Senior Counsel at Privacy for Nielsen
Decision Science, 2009
Register for Under Construction: Internships

Pictured above: Dietrich College alumni at the first Under Construction: Building Your Future event in 2013.