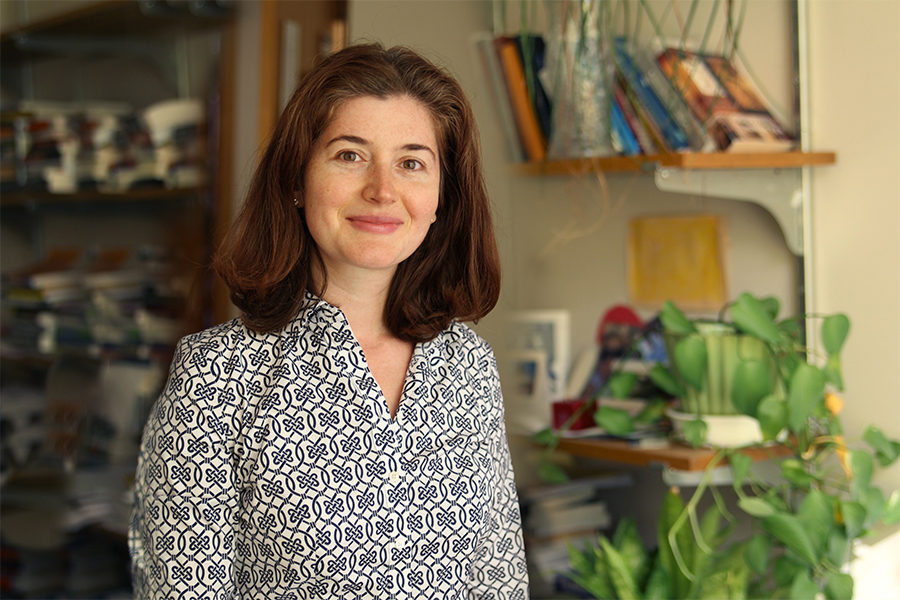 October 27, 2017
Lost in Translation
CMU's Emanuela Grama Lends an Ear to Immigrant Group
Immigration and accurate media coverage have been trending points of discussion during the past year. When the two recently became intertwined in a small western Pennsylvania suburb, Carnegie Mellon University's Emanuela Grama offered to reporters to do what was most needed: Listen.
A group of about 40 Roma families—an ethnic group from Romania that have suffered persecution and social marginalization— recently sought asylum in the small town of California, Pa. Grama, a native of Romania, accompanied reporters from the Pittsburgh Post-Gazette as a translator.
Grama, who studies how states use material practices to produce political communities, told the Pittsburgh Post-Gazette that she agreed to get involved because "A few of them have talked with reporters, and they feel they have been misrepresented."
When the Roma first arrived in California, questions were asked by current residents and left unanswered. Rumors swarmed of the Roma being poor and unkempt, and those are the messages some news outlets ran with when writing about the place of the Roma in California, giving the Roma an identity that isn't theirs.
"The media—and social media—seems to have replaced such an unmediated conversation," Grama said. "Instead of trusting one another, and signaling respect to one another, we prefer to place that trust in the media on the assumption that they offered trustworthy, unbiased information."
The consequence of the mistrust, from the Roma with reporters and California residents with the Roma, results in more questions. Questions about integration what it means to know one another.
"This is immensely relevant to broader questions that preoccupies everyone living in today's world: Whom we trust and why? What does belonging to a community mean in a digital era?" Grama said. "Issues of trust are intrinsically connected to community-making because conversations about trust—whom do we extend that trust, and whom we deny that trust, are related to issues of dignity, respect to difference, self-respect, etc."
In spite of the miscommunications, there are California residents who extended helping hands to the newcomers.
Attorney Lisa Buday posted fliers in Romanian, directing the Roma to where they can get supplies. Buday told the Post-Gazette, "There's a long history in my family of welcoming people to our table."
Since the initial introduction of the Roma to the small town, there have been successes in integration of the Roma within the community. As of last month, at least one of the children had registered to start school in the California borough.
For anyone who may experience situations like this in the future, Grama has simple advice.
"Leave the phones down," Grama said. "Have coffee or share a meal. Pay attention. Assume nothing. Welcome any questions. Sometimes you can enjoy coffee together even if you don't share a common language."
Pictured above: CMU's Emanuela Grama