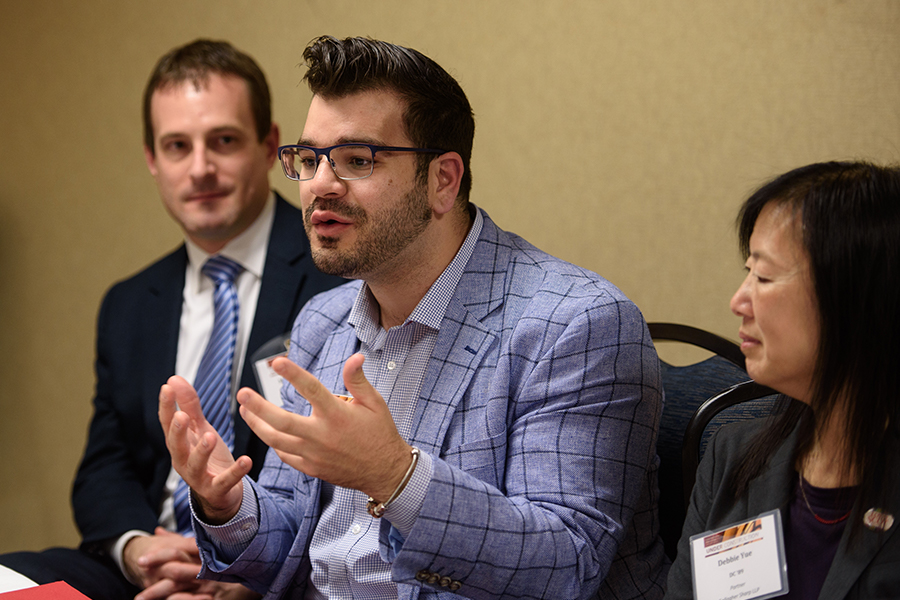 November 20, 2017
Alumni Talk Internships at Under Construction
By Ann Lyon Ritchie
When Matthew Hannigan (HNZ '02), co-founder of The Sprout Fund, gave his keynote at Under Construction, he was serious about sharing some pointers about internships.
Hosted by the Dietrich College of Humanities and Social Sciences, the fifth annual Under Construction event offered sophomores opportunities for meeting and talking with alumni about internships and career paths.  In a brief address, Richard Scheines, dean of the Dietrich College, encouraged students to "extract every tidbit of knowledge" as possible.
Hannigan recalled what it was like being an intern. Despite some of his initial feelings of uncertainty, he stuck with the position in the Allegheny County government. What he learned influenced his career, and eventually it influenced a city. 
During his internship, Hannigan gained an appreciation for small civic projects and their ability to make a large local impact. The concept became a central mission to the nonprofit he co-founded in 2002 with Cathy Lewis Long (DC '91). Today, The Sprout Fund has invested $7 million in approximately 1,000 projects in the greater Pittsburgh region.
"Most people consider internships as part of their school experience, but it could actually be very important to your career," Hannigan said.
After dinner and the keynote address, students met and spoke with Hannigan and more than two dozen alumni.
The students asked a variety of questions, such as how to cope with nervousness before interviews, how to stand out as a candidate for competitive internships or what to do if the "right" internship is impossible to find. The alumni readily answered and based their advice on experience. 
"Go out of your way to look for opportunities, to participate in informational interviews, and then follow up afterwards. Tell them why you were interested in joining them for an internship. Making a personal connection with someone at an organization can help to drive your application and make it visible in a sea of hundred, sometimes thousands, of resumes," said Juan Acosta '15, a consultant at Booz Allen Hamilton.
Lisa Han, a sophomore economics major, recalled the event taking place last year. She anticipated good networking opportunities. 
"I did not want to miss the chance to meet alumni because I knew it would be incredibly valuable. It's important to make connections, and this is also a chance to connect with my fellow Dietrich College classmates," Han said.  
During breakout sessions, the alumni talked openly about their own internship experiences, as well as current careers. Importantly, they provided wisdom on how to handle let downs and failures.
"An internship is a low-risk learning opportunity, so it's okay if it only offers one or two elements related to your passion. It might not be 'the thing' you want to do. I had a great internship and not-so-great internship; I learned from both of them," said Joanna Lovering (BHA '04), senior director at HALO Academy.
Internships were a major focus of this year's event, according to the event's organizer Jennifer Keating, assistant dean for educational initiatives at the Dietrich College.
"The event has evolved over the years, but it keeps getting better. We want the sophomores at the Dietrich College to know about all of the great opportunities that await for them, even during those times when they don't know exactly what the future holds. Under Construction provides a unique opportunity to do just that," Keating said.
"By talking with the alumni, I gain a better understanding of what I would like to do and where I would like to go," said Yasasvi Hari, a sophomore statistics major. "It helped to clear up my doubts and my fears."
Pictured above (Left to right): Alumni Matthew Hannigan, Juan Acosta and Debbie Yue.