Sprouting Vision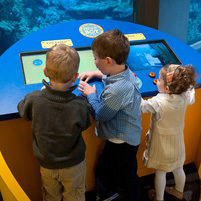 Reefbot
When Matt Hannigan (HNZ'02) and Cathy Lewis-Long (CMU'91) started The Sprout Fund ten years ago, they set out with a vision to create a lasting, positive impact on Pittsburgh.

A decade later, The Sprout Fund continues to support innovative ideas.

"Through our Seed Awards program, which is our flagship funding program, people can come to us every other month and seek support of up to $10,000 for their ideas," said Hannigan, co-founder and deputy director of Sprout.

"To date we've supported nearly 300 small community projects, tackling a variety of issues important to Pittsburgh."

One example is Jennifer Gooch's idea to re-connect lost gloves and mittens found around the city to their owners. The success of the 2010 grad's program "One Cold Hand"  several years ago garnered her attention from hundreds of media outlets including USA Today and NPR's All Things Considered.

"And we have a newer program called Spark, which is working at the intersection of digital media and technology helping to inspire young children to learn," said Lewis-Long, co-founder and executive director of Sprout.

Spark funded Reefbot which is a joint project of CMU's Robotics Institute and the Pittsburgh Zoo & PPG Aquarium.

Young visitors to the Pittsburgh Zoo & PPG Aquarium exhibit use a control station to remotely pilot a submerged robot. Using its video camera, the children can track fish, snap photos and later learn to identify the type of fish they photographed.

Hannigan is a graduate of Heinz College's Master of Science in Public Policy and Management program. Lewis-Long is a native of Pittsburgh and a graduate of CMU's dual degree program in professional writing and literary cultural studies.

With strong working relationships to many community organizations and regional stakeholders, Sprout's approach has worked successfully across political and geographic boundaries to make hundreds of community-decided investments in early-stage projects, organizations, innovators, and activities.
Related Links: The Sprout Fund | Heinz College
---