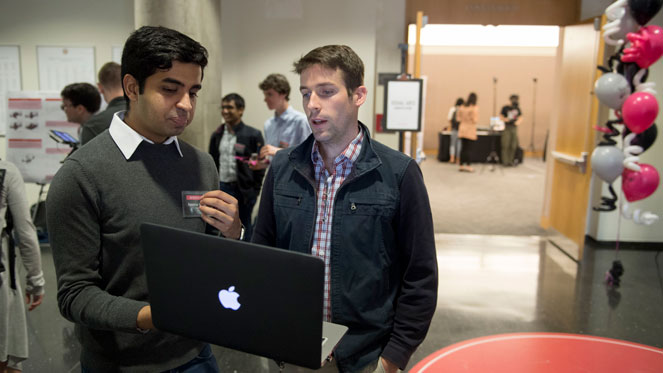 May 17, 2017
Meeting of the Minds Showcases Students' Diverse Talents
By Emily Stimmel
From designing a constitution for a reunified Korea to writing a collection of short stories, students in Carnegie Mellon University's Dietrich College of Humanities and Social Sciences work on projects that tackle real problems and showcase their creativity.
More than 600 undergraduates shared what they've been working on at the 2017 Meeting of the Minds symposium.
Here is a sample of the Dietrich College projects and what the students took away from the experience.
Little Bits and Pieces

Cullen Wells, Senior
Creative Writing and Ethics, History & Public Policy
Wells read from a collection of character-driven short stories united by common themes of weakness, insecurity and the pursuit of fulfilling human relationships. In each story, someone takes something that belongs to someone else, whether physically or through emotional manipulation. Wells said that he was inspired by crime and noir genres, which often have high physical and emotional stakes.
One story he shared, "Gone With the Birds," was a character study of Betty, a grocery store employee married to Ben, who is coping with a major illness. Betty begins stealing wine from work and drinking excessively as a way to grapple with her grief.
"When people feel minimized or distanced from humanity in some way, it can be understandable to act in ways that are out of character and that, often, are self-destructive. These stories try to build that understanding, offering sympathy to those who struggle with human relationships because of insecurities," said Wells.
The Indigenismo Movement in 20th Century Mexico: Progressing from Assimilation to Inclusion and Representation of Indigenous Communities
Melanie Diaz, Senior
English and Global Studies
Diaz presented a paper—which also served as her capstone project for the global studies major—on the ways that racial ideologies affected the trajectory of the Indigenismo movement in twentieth century Mexico. She argued that over time the Indigenismo movement became an inclusive one, ensuring indigenous participation in the dominant culture.
Diaz was inspired to pursue this topic during a trip to the Yucatán peninsula in 2015 funded by a scholarship from the Jennings Family Brave Companions Fund. There, Diaz met indigenous Mayans and learned about inequality in education.
"People were surprised I was getting an education because of my skin tone," said Diaz, who was recently named the recipient of a Fulbright English Teaching Assistantship award. 
While researching the project, Diaz studied government documents spanning the twentieth century. She noted that translating large documents from Spanish was a challenge, and that some sources were potentially biased – particularly those papers by government institutions.
Heart Rate Analytics: Extracting Heart Rate Through Facial Landmarking
Asawari Kanitkar, Senior; Divya Mohan, Senior; and Kathryn Williams, Senior
Information Systems
Machine emotional intelligence is an emerging field in which machines communicate with humans by detecting and responding to their emotions in real time. Kanitkar, Mohan and Williams utilized a type of this technology for the Information Systems Program's Software Development course.
They created a website that records video of people and captures biometric data, like heart rate. Potential applications for the technology are numerous— from airport security to marketing.  For example, an elevated heart rate could indicate a particular response to an advertisement.
"I think the most exciting part is that this new technology is undiscovered and we're able to make it accessible and visible to the world," said Williams.

This was the first time the students presented at Meeting of the Minds, and they said their work was well received.
"It was nice to see some enthusiasm about our project," said Mohan.
Designing the New Constitution for Human Rights Protection for the Reunified North Korea
Yeawon Choi, Senior
International Relations and Politics
According to Choi, Korean reunification is expected if  North Korea internally collapses. For her honors thesis, Choi wrote a paper identifying characteristics that a new constitution should include in order to ensure human rights protections. She analyzed case studies including the Basic Law for the Federal Republic of Germany and the constitution for the reunified Korea proposed by Professor Cheol-Soo Kim, a renowned constitutional scholar.
Choi developed an interest in the topic after speaking with her grandfather, who immigrated to South Korea to North Korea during the Korean War, and taking the "Judicial Politics and Behavior" course with her mentor, Geoffrey McGovern. Meeting of the Minds was the first time she shared her research in a public forum.
"I was surprised that people have a lot of interest in the topic and that so many of them think reunification is impossible," said Choi. "Building a new constitution is the starting point for successful reunification."
La Loi Toubon: Language Policy and Linguistics and Cultural Diversity in France
Mary Catherine (Casey) Devine, Senior
Global Studies and French & Francophone Studies
Devine started her research last summer as part of the Dietrich College Honors Fellowship Program. As a fellow, she laid the theoretical and historical groundwork for her project.

Her thesis moved in a different direction when she surveyed participants in France last fall. She discovered that most of the survey respondents opposed La Loi Toubon—a piece of 1994 legislation that mandates that French be the language of all public advertisements, products and documents.
"I expected my project to be about the strength of language policy and national identity in France," said Devine.
She also noted that her project felt more relevant than ever given current events like the French presidential election.
Though Devine presented her work at various stages throughout the honors fellowship, this was her first time delivering a poster presentation at Meeting of the Minds.
"It was a good experience and it was nice to see everything come together," she said.
Joint Demosaic and Super-Resolution Using Deep Learning
Tim Brooks, Senior
Logic and Computation
Brooks is attempting to make images higher quality by improving the processing of image sensor data. This entails fusing two processing steps into a single joint method: demosaic, which introduces color to the image, and super-resolution, which increases image size.
This summer, Brooks will start a job at Google Research in their camera group. He chose this topic in part because of its relevance to his position, which will involve developing algorithms for image processing, mobile cameras and photography software.
Meeting of the Minds was Brooks' first public presentation of this research. He hopes his work demonstrates that demosaic and super-resolution are related processes and that fusing them could potentially increase the efficiency of image processing.
"Working one-on-one with an adviser taught me more specialized information that I normally learn in a class. I learned from and enjoyed the insightful feedback and guidance my mentor provided," said Brooks.
Effects of Chronic Unpredictable Stress on Anxiety, Cognition and Neuroinflammation in Rats Subjected to Experimental Brain Trauma
Isabel Bleimeister, Junior
Neuroscience

In this oral presentation—which won first place in the Psychology category—Bleimeister described the findings of a study that examined the effects of chronic, unpredictable stress on rats. The research looked at the combined impact of stress in the recovery phase of traumatic brain injury on cognition, anxiety, depression-like behavior and inflammatory responses. 


She said that she chose to participate in Meeting of the Minds to gain experience discussing her research.

"I tend to get nervous when presenting my work and hoped it would help me overcome these fears," said Bleimeister, who was just named a Dietrich Honors Fellow.
"From this experience I learned that I am capable of thinking on my feet. The fact that I was able to adequately answer questions about my work convinced me that I did truly understand the implications of my research," Bleimeister said.
Let the Game Begin: Value Function & Probability Function Estimation
Yikun Chi, Senior
Decision Science
As part of his senior honors thesis, Chi studied cognitive models of human decision making in high risk situations. The typical approach to decision making under risk is to analyze how decision makers choose between two gambles, with prospect theory—which describes how people weigh outcomes and probabilities—being the most commonly used model.

"Prospect theory is the holy grail of decision theory," said Chi.
In Chi's project, he explored the use of machine learning to record the choices of five electronic poker players at the Rivers Casino on Pittsburgh's North Shore.
He said that he believes the results of the study will have the potential to impact savings and investment, business and public policy.

At Meeting of the Minds—his second time presenting this project—Chi learned about people's perceptions of casinos and gambling.

"People have asked how they can know when to stop or whether to continue, and whether they should go to casinos," said Chi.
Analyzing Changes in Galaxy Morphologies as the Universe Ages
Corey Emery, Freshman
Statistics and Machine Learning; Human-Computer Interaction
Using data of simulated galaxies from the Illustris project, Emery attempted to learn how seven summary statistics change between various time points and whether changes in these statistics could predict changes in a galaxy's mass.
Emery developed his research project in Peter Freeman's Research Training Program course, where he was one of three students. He appreciated the opportunity to work one-on-one with Freeman, special faculty and project scientist in the Department of Statistics, to gain experience using statistics.
Emery used unsupervised statistical methods like principal component analysis and supervised methods including linear regression.
"I was impressed by the amount of data that's out there and how many different ways there are to tackle a problem," said Emery.
This was the first time Emery presented his work at CMU, but he had a chance to dabble in research during a high school internship. Though he recognized that his research was on a niche topic, he noted that Meeting of the Minds is a great opportunity to learn about diverse projects from a broad range of disciplines.

"Regardless of their background or knowledge about statistics or physics, everyone comes away with some new understanding," said Emery.
Pictured above: Apoorva Havanur, a junior majoring in statistics and machine learning, shares his work with Mark Patterson, director of the Quantitative Social Science Scholars Program.