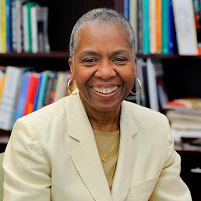 May 08, 2017
Obituary: Gloria Hill, Former Dietrich College Assistant Dean
By Shilo Rea
Gloria Hill, who had been a staff member at Carnegie Mellon University for 35 years before her retirement in 2015, died Wednesday, May 3. She was 70.
Hill joined CMU in 1972 as an advisor. She also served as director of the Carnegie Mellon Action Project (CMAP) and assistant vice-provost for education, which, from 2004-2008, made her the liaison between CMU's Pittsburgh campus and its then brand-new Qatar campus.

In 2008, she became assistant dean of the Dietrich College of Humanities and Social Sciences and director of the Academic Advisory Center (AAC) and was instrumental in shaping thousands of CMU students' educations. As the "home base" for Dietrich College students before they declare a major, the AAC provides information, advice and counsel about scheduling, the General Education Program (GenEd) requirements in the college and the various majors and minors available.

Hill also helped to mold the AAC into a place students can turn to during the transition into college life. Hill and her staff encouraged and aided students in developing realistic goals and objectives for the start of their CMU academic careers. As assistant dean, she was also responsible for administering college and university academic policies and procedures and maintaining student records, as well as for the quality of advising throughout Dietrich College.
"I am very fortunate to have known Gloria for many years here at Carnegie Mellon and privileged to have come to know and work with her closely in the last years of her storied Carnegie Mellon career," said Joseph E. Devine, associate dean for undergraduate studies. "Gloria was a joy to work with, and just be with. She epitomized style, refinement, grace, wit and the unwavering dedication to the well-being of students in her charge that only the finest educators exhibit. I was always flattered when she would seek out what she called my 'counsel' on one or another thorny issue, which we'd work through and end with finding a way to laugh together. Every day was a better day when it included Gloria. I miss her greatly and am a better person and educator for having known and worked with her."

At the time of her retirement, many believed that Hill's lasting legacy at CMU and in the Dietrich College would be her devotion to everyone at CMU—students, faculty and staff.
John Lehoczky, the Thomas Lord University Professor of Statistics who was the Dietrich College dean who appointed Hill as assistant dean, said, "We were incredibly fortunate to be able to recruit Gloria to become the director of the AAC. Using her outstanding experience in designing advising programs along with her managerial skills, she transformed the center to provide excellent advising and mentorship for our first and second year students and to connect them more broadly with campus resources and student affairs. She also helped to create a sense of unity among the Dietrich College students."
Lehoczky also noted that Hill's impact went well past advising, the ACC and even Dietrich College.
"Gloria also made a strong contribution to the Dietrich College Office of Undergraduate Studies led by Jay Devine," Lehoczky said. "Moreover, her contributions extended to the entire university, and we are a much stronger Carnegie Mellon today because of Gloria. Her expert advice, her management skills and her devotion to the success of all of our students will be greatly missed."

Viewings and a memorial service will be held at Mt. Ararat Baptist Church, 271 Paulson Ave., Pittsburgh, PA 15206.

Thursday, May 11
Viewing: 3 – 8 p.m.

Friday, May 12
Viewing: 11 – 11:30 a.m.
Delta Sigma Theta Service: 11:30 a.m. – noon.
Funeral: Noon

Flowers are welcome or memorial donations can be made to the CJD Foundation.