July 14, 2015
AAC Director Gloria Hill To Retire
By Shilo Rea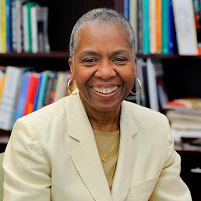 After 35 years at Carnegie Mellon University, Gloria Hill will retire at the end of July.
Hill, assistant dean of the Dietrich College of Humanities and Social Sciences and director of the Academic Advisory Center (AAC), has been instrumental in shaping thousands of CMU students' educations. As the "home base" for Dietrich College students before they declare a major, the AAC – under Hill's expert guidance - provides information, advice and counsel about scheduling, the General Education Program (GenEd) requirements in the college and the various majors and minors available.
Hill has also helped to mold the AAC into a place students can turn to during the transition into college life. Hill and her staff encourage and aid students in developing realistic goals and objectives for the start of their CMU academic careers. As assistant dean she also has been responsible for administering college and university academic policies and procedures and maintaining student records, as well as for the quality of advising throughout Dietrich College.
"Gloria brought a wonderful presence to the advising center," said Dietrich College Dean Richard Scheines. "She was warm, welcoming, and full of energy, but also quite calm and wise. I feel a bit deprived to only get a year to work with her, but she has definitely earned a little down time!"
During her tenure, Hill is also credited with creating a more welcoming environment for the AAC – for students, faculty and advisors – and for helping to instill a stronger sense of college identity through programs such as Pride Day and final exam survivor kits.
"We were incredibly fortunate to be able to recruit Gloria to become the director of the AAC. Using her outstanding experience in designing advising programs along with her managerial skills, she transformed the center to provide excellent advising and mentorship for our first and second year students and to connect them more broadly with campus resources and student affairs. She also helped to create a sense of unity among the Dietrich College students," said John Lehoczky, the former dean who appointed Hill.
Lehoczky also noted that Hill's impact went well past advising, the ACC and even Dietrich College.
"Gloria also made a strong contribution to the Dietrich College Office of Undergraduate Studies led by Jay Devine," Lehoczky said. "Moreover, her contributions extended to the entire university, and we are a much stronger Carnegie Mellon today because of Gloria. Her expert advice, her management skills and her devotion to the success of all of our students will be greatly missed."
In 1972, Hill joined CMU as an advisor. Since then, she has served as director of the Carnegie Mellon Action Project (CMAP) and assistant vice-provost for education, which, from 2004-2008, made her the liaison between CMU's Pittsburgh campus and its then brand-new Qatar campus. In 2008, she assumed her current role. Her colleagues agree that the approach to advising has been forever changed within the college.
"Gloria's care and compassion in working with students has been inspiring to me as an academic advisor," shared Connie Angermeier, coordinator of student programs in the Department of Social and Decision Sciences. "Her sincere desire to see every student succeed - and then help them develop the tools for success - has been transformative for the many lives she has touched. I will miss her fairness, consistency and grace while enforcing the high standards of the college."
Many believe that Hill's lasting legacy at CMU and in the Dietrich College will be her devotion to everyone at CMU – students, faculty and staff.
"Gloria is by far the most approachable person that I've ever met," said Gary DiLisio, academic advisor in the AAC who has worked for Hill for almost six years. "Whether a question about a Dietrich College policy or just needing to vent about my day, I could always count on her being there for me and greeting me with a smile. I am truly blessed to have Gloria as my supervisor in my first career position following graduate school. She played a BIG role in my ability to grow and develop into the seasoned advisor and student affairs professional I am today."
DiLisio added, "I am certain she has had this same kind of an impact on other folks as well, which is one of the many reasons she will be so missed."
A celebration is being planned to honor Hill in September.