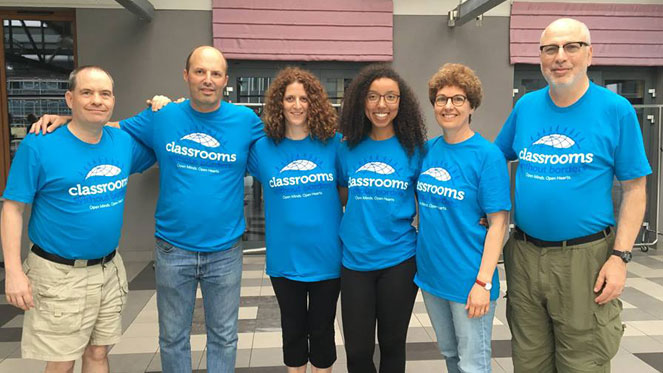 July 28, 2017
Group Travels To Witness Poland's Jewish Past and Present
By Ann Lyon Ritchie
The soft smile on the face of a Holocaust survivor at a heritage festival was one of this summer's memorable moments for Laurnie Wilson (DC'16). She imagined he had moments in his life when he thought smiling would never again be possible. Wilson, a freelance writer, recently returned from a study seminar in Poland where she met Howard Chandler, age 89, and learned about his early life and a Jewish culture that was eradicated by Nazi Germany.
Classrooms Without Borders (CWB) coordinated the tour and offered funding to a small group of Carnegie Mellon University faculty. They extended an invitation to Wilson based on her fiction and photography work as a Dietrich Honors Fellow, her bachelor's degrees in creative writing and history and minor in German. She felt honored.
"Being able to process and discuss the events of the trip with such thoughtful, articulate and educated individuals completely expanded the scope of my thoughts and the way I approached our discussions. That said, it wasn't all academic analysis. This trip was an emotional rollercoaster, and sometimes a kind smile or a warm hug was far more resonant than any conversation," Wilson said.
The Department of History's Laurie Zittrain Eisenberg, Paul Eiss, Michal Friedman and John Weigel and the School of Computer Science's Roni Rosenfeld spent eight days traveling through Poland.
CWB tours focus on experiential learning—participants meet people personally affected by the course of history who then demonstrate how the events resonated.
"Our mission is to use the country as a textbook to help educators and students a gain deeper understanding of what they are teaching and learning," said Zipora "Tsipy" Gur, CWB founder and executive director.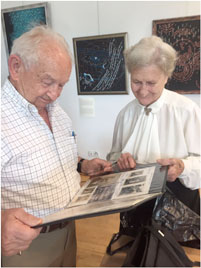 For example, the group visited Auschwitz with Chandler who had been imprisoned as a teenager and could talk about his experiences there. He recalled trying to throw a sweater over a fence to his father as he was being marched with other men out of the camp. A guard shot at him and the bullet grazed his ankle. The group stood next to the fence as Chandler recounted the story. He never saw his father again. His mother, sister and little brother were also murdered.
Another person they met on the trip, Paulina Plaksej, showed them a medallion awarded to her family by Israel for sheltering Jews during the war. They met Polish high school students taking part in a project to recover Jewish aspects of their town's history. In Warsaw and Krakow, they encountered leaders of the emerging Jewish communities who further deepened their understanding of genocide's impact and gave hope to actions being taken to reconstruct and share a culture lost.
"Everywhere we went we met a person with a compelling story. To be there in the place where it happened is so powerful. It really engages your brain, your heart, your senses and your imagination—it was just a phenomenal educational experience," said Eisenberg, teaching professor of history.
Friedman, visiting assistant professor of history, will teach a course on anti-Judaism and anti-Semitism from the Middle Ages through the Holocaust this fall. She said the seminar provided a "texture to history" that enhances the understanding gained through academic scholarship.
"The seminar emphasized the richness of Jewish life before the war. I was reminded that in teaching about the Holocaust, providing a sense of this longer history is central to any understanding of the magnitude of what was lost," Friedman said.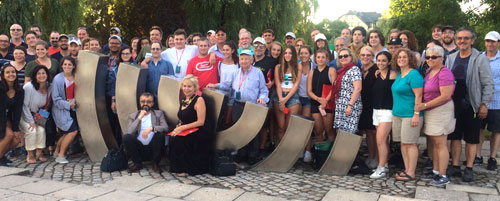 Eisenberg added, "We felt charged with the responsibility of bringing the message of tolerance and the importance of finding ways to resist evil back to the classroom and sharing with our students so that the impact goes that much further."
As the faculty members folded their experiences into instructional materials, Wilson also felt compelled to take action as a writer.
"I actually have come to feel a responsibility for using my storytelling ability to spread awareness of how we can each become more tolerant, understanding, accepting of differences and compassionate towards ourselves and each other," Wilson said.
She is planning a podcast series and a documentary.
"I saw some of the most tragic acts of human history and knew I couldn't just go back to my 'normal' life. Although I'm not an educator, I'm working on my own ways of educating communities on these important themes," she said.
Top photo features from left to right: John Weigel, Paul Eiss, Michal Friedman, Laurnie Wilson, Laurie Zittrain Eisenberg and Roni Rosenfeld.
The second photo shows Howard Chandler meeting Paulina Plaksej, a Polish woman whose family sheltered Jews during the war.
Also pictured is the entire tour group at the menorah sculpture in Kielce, where Jews returning home after the Holocaust were murdered in 1946.