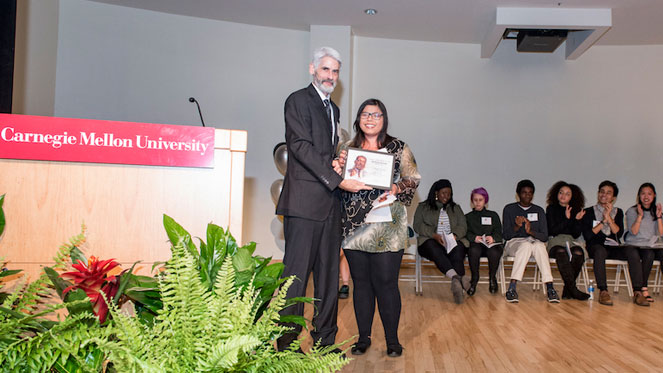 January 30, 2017
Video, Photos From 2017 Martin Luther King, Jr. Writing Awards
By Shilo Rea
What does it mean to be Asian-American? Or Nigerian-American? Or simply American?

Winners in Carnegie Mellon University's 2017 Martin Luther King, Jr. Writing Awards tackled topics from self-identity and racism to terrorism and the U.S. presidential election. The awards program, established in 1999 to give high school and college students a safe, creative space to explore racial and cultural differences—received a record-breaking 220 entries from 16 high schools and five colleges. The student winners, who received cash prizes and had their pieces published in a booklet distributed at the event, read their poems and essays at an awards ceremony on Monday, Jan. 16, 2017.

Watch a video of the awards ceremony.

View photos from the event.

Join the Martin Luther King, Jr. Writing Awards Facebook Group.

Learn more about the 2017 awards and read the winning pieces.