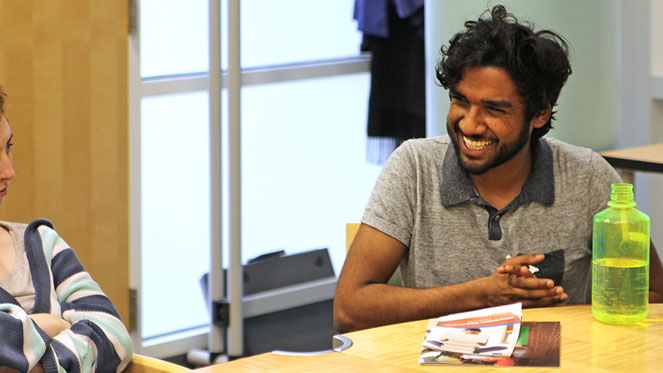 February 23, 2017
Learn From Current Seniors: Honors Fellowship Program Offers Exciting Opportunities
By Ann Lyon Ritchie
Juniors may feel compelled to apply for the Dietrich College of Humanities and Social Sciences' Senior Honors Fellowship Program after learning about the current fellows' experiences.
The benefits of getting paid to initiate research projects and develop professional examples of their work — while working with faculty mentors — are just a few of the big motivators, according to including You Bin Maeng, a psychology major and cognitive neuroscience minor. Her thesis explores causal reasoning in adults.
The fellowship allows students to spend the summer before their senior year pursuing in-depth research for their Senior Honors Program theses.
Dhruva Krishna, who is majoring in professional writing and ethics, history and public policy, agreed with Maeng. His research topic is the do-it-yourself (D.I.Y.) music scene in Pittsburgh. Since starting, he has evolved the vision of his final project from a film documentary to a proposal for a physical entertainment space that may one day bring new art and music to campus, and it excites him.
"At this point, I'm doing less academic research and doing more legwork to facilitate the process, such as finding out how much it would cost to build a stage, or to install a sound system. I will have a plan so thorough that others can follow it, without being solely dependent on me. I want to makes sure it can happen," Krishna said.
Krishna knows he has benefitted personally from the experience of researching, developing and presenting the proposal.
"My academic interests are self-defined with a focus on culture and the entertainment industry, and how culture influences society. From that perspective, the fellowship pushed me to outline my ideas and complete research that resulted in a document that will serve as a great demonstration of my professional abilities in the field after CMU," he said.
Psychology major Sophia Makal believes her project has gone smoothly and according to plan. She is studying the use of self-affirmation to increase males' willingness to provide emotional support.
"I have already collected all of my data, which is oftentimes the hardest part of running a psychology study," she said.
Makal launched a soft study in the fall semester which then allowed her to present her initial design and sample data to Psychology Professor Brooke Feeney's Relationships Lab and gain valuable feedback from her peers. After receiving their thoughts, she felt confident in the design of her study and well equipped with leads for the literature review portion of her thesis.
"The fellowship program has given me a glimpse into what a research mentorship program is like, which is especially important to me, as I am hoping to pursue graduate studies in clinical psychology, and working closely with a research mentor is an integral part of most doctoral programs," said Makal. "Additionally, it has provided me with the freedom to do research on something of specific interest to me, and you don't always get that opportunity as an undergraduate."
Interested juniors can learn more about the fellowship program and apply by March 24.