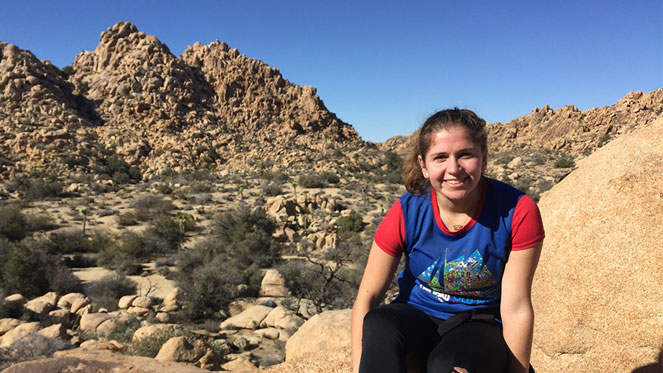 April 12, 2017
Carnegie Mellon Junior Wins Truman Scholarship
By Shilo Rea
Mikaela Wolf-Sorokin, a Carnegie Mellon University junior majoring in global studies and Hispanic Studies, has won a 2017 Harry S. Truman Scholarship. Selected from 768 candidates, Wolf-Sorokin is one of 62 recipients of the prestigious national scholarship designed to support the next generation of public service leaders. Wolf-Sorokin is the sixth overall CMU student to receive this award and the first since 2009.

"Mikaela is as passionate about public service as any student I've ever met," said Richard Scheines, dean of the Dietrich College of Humanities and Social Sciences. "Pretty much our only comment during mock interviews was to 'slow down and breathe in between paragraphs!' I actually feel better about the future of the planet knowing that people like Mikaela are throwing themselves into improving it so forcefully. The Truman Scholarship is a great honor, and Mikaela is a great choice."

Truman Scholars receive a $30,000 scholarship toward graduate school and the opportunity to participate in professional development programming to help prepare them for careers in public service leadership. Wolf-Sorokin plans to attend law school and focus on immigration and social work. She is currently taking a gap semester and volunteering for an organization that provides humanitarian aid to migrants in the desert. Through an internship, she is working with unaccompanied minors in a Tucson-area shelter and adults detained in immigration detention facilities in Florence, Arizona.

"I applied for the Truman Scholarship because it seemed like a great opportunity to meet a network of people who area all passionate about public service but interested in a variety of issues," Wolf-Sorokin said. "I want to gain the skills to provide quality legal services to immigrants fleeing violence in their home country. Because of the nature of this work, most people have undergone terrible trauma. A law degree with a social work concentration will give me the necessary skills to support those individuals as we fight their legal cases."

Wolf-Sorokin's interest in migration began as a high school student at Brookline High School in Brookline, Massachusetts when she took a cultural awareness and learning trip to Cambodia. After arriving at CMU, she became involved with Facilitating Opportunities for Refugee Growth and Empowerment (FORGE), a student organization that aids the local and global refugee cause, and eventually served as president. As a Truman Scholar, Wolf-Sorokin hopes to expand her experience by working in family detention centers.

Wolf-Sorokin relied on the expertise of Stephanie Wallach, assistant vice provost for education, and Richelle Bernazzoli, assistant director of undergraduate research and national fellowships, to guide her through the application process.

"At each point, we were amazed with Mikaela's level of intellectual engagement as witnessed by her rigorous undergraduate curriculum coupled with her commitment to the betterment of underserved populations through activism on the ground and leadership of organizations like FORGE," Wallach said. "The Truman Scholarship invests in people committed to careers in public service who they deem as 'social change agents.' I think that Mikaela will be an excellent representative of Carnegie Mellon who will make important contributions to bettering the world."

The 2017 Truman Scholars will receive their awards at the Harry S. Truman Presidential Library and Museum on May 28.