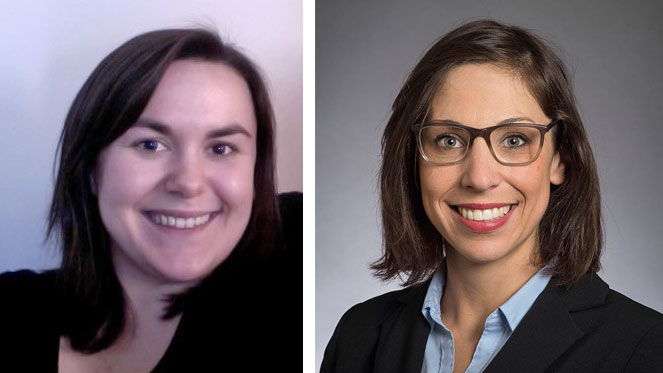 April 14, 2017
Graduate Student Teaching Award Winners Announced
By Emily Stimmel 
Aidan Kestigian and Mary Glavan are the 2017 recipients of the Dietrich College of Humanities and Social Sciences' Graduate Student Teaching Award.
Kestigian, a Ph.D. candidate in logic, computation and methodology in the Department of Philosophy, also received her master's degree from CMU. Her research focuses on the intersection of ethics, mathematics and voting behaviors in democratic societies. These interests are reflected in courses she has taught, including Introduction to Political Philosophy and Social Structure, Public Policy, and Ethics.
In her nomination letter, Maralee Harrell noted that Kestigian had the most teaching experience of any student she has supervised.

"Aidan is well on her way to become a leader in the teaching philosophy community," said Harrell, teaching professor of philosophy. "In addition  to faculty praise, Aidan has consistently been highly rated by her students both in her capacity as a teaching assistant and as a primary instructor."
Students regularly described Kestigian as warm, friendly and approachable.
"Aidan opened the floor and created a welcoming learning atmosphere that spurred healthy discussion about real-world issues. She emphasized that there was no 'right or wrong answer' and refrained from inserting her own political or ethical bias into the learning material and class discussions," said Nick Flanigan, a junior majoring in economics.

A Ph.D. candidate in rhetoric within the Department of English, Glavan also holds a master's degree in rhetoric from CMU. Her research uses rhetorical and discourse analysis to address the challenges of disability advocacy, particularly those faced by parents of disabled children.
Glavan has taught courses for audiences ranging from first-year students to English language learners and students pursuing careers in writing and editing.
In his nomination letter, English Professor Jeffrey J. Williams described how Glavan applied her research in disability studies in the classroom, saying "One might think the field has narrow relevance, but she uses techniques from it simply to guide students who have differing abilities, breaking down complex processes into practicable chunks that fit the abilities of those in class, notably for non-native speakers."
Snigdha Roy took Glavan's interpretation and argument course, "Next to Normal: The Cultural Politics of Disability," in 2011.
"The critical thinking she set me up with through the discourse on disability set up a foundation for understanding denser, more complex texts," wrote Roy, who received her bachelor's degree in computer science in 2015. "She challenged the students to re-evaluate what are considered societal norms, and taught us why it is so hard to break from them."