September 27, 2016
Undergrads Win Psychology Research Awards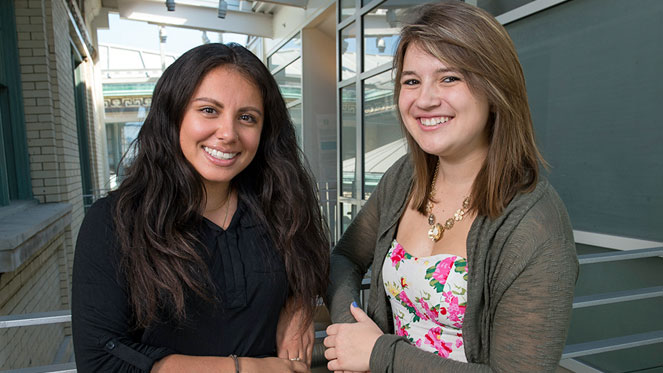 Carnegie Mellon University students Alyssa Aburachis (DC'18) and Cristina Molina (DC'17) have received the 2016 Ireland Undergraduate Research Awards.
Funded by an endowment from the George and Elisabeth Ireland family, the awards were established in 2015 to support high-quality undergraduate psychology research projects. Aburachis and Molina will each receive $1,500.
"Hand's on research involvement is at the core of the CMU educational experience, and our undergraduate psychology program. Support of this kind is essential for enabling research opportunities for an increasing number of interested students. The Ireland family's generous gift reflects the Ireland's deep understanding of the unique importance of direct student participation in cutting-edge laboratories at CMU," said Michael J. Tarr, head of the Department of Psychology in the Dietrich College of Humanities and Social Sciences.
Aburachis, a science and humanities scholar who is majoring in neurobiology and psychology, is working in Erik Thiessen's Infant Language and Learning Lab to investigate the effect being raised in a bilingual environment has on children's attention spans. Specifically, she is trying to find out at what point during development that bilingual children between the ages of two and seven are able to control and sustain their attention better than their single language speaking peers.
"Attention and other 'executive function' abilities are tremendously important for learning, especially in school settings – for example, it's hard to learn if you can't pay attention or are easily distracted," said Thiessen, associate professor of psychology. "If we can figure out when that difference emerges, we can start to figure out why it's emerging - whether it's about experience, linguistic competence, maturation or something else."
A senior psychology major, Molina is conducting one of the first empirical research studies into the popular belief that biracial individuals are considered to be more attractive than those of a single race. Working with Associate Professor of Psychology David Rakison, Molina is attempting to discover whether this notion is true, and if it is, why it happens.
"It is already known that infants and adults prefer, and find more attractive, prototypical faces, and Cristina is testing the novel hypothesis that biracial faces are preferred to uniracial faces because the former is an average of two populations of faces," Rakison said.
A graduate of the University of Michigan, George Ireland is chief executive officer, chief investment officer and managing member of Geologic Resource Partners. He has more than 35 years of experience in the natural resource sectors in positions ranging from field geologist, banker and venture capitalist. Previously, he was a research partner with Knott Partners LP, senior vice president and CFO of MinVen Gold Corporation and assistant treasurer of ASARCO, Inc.
Elisabeth "Lisa" Ireland, a Wharton School graduate, is a partner with the investment management firm Hamilton Companies. Their son Gus Ireland (DC'13) graduated from Carnegie Mellon with a degree in cognitive science. He is currently a software developer at Rackspace in Austin, Texas.
When it comes to preparing its students for the future, few universities can match the opportunities that CMU offers its undergraduates for research and training. Dietrich College undergraduate students are actively engaged in groundbreaking research. Learn more.
Related Article:
_____
By Shilo Rea
Pictured above are Cristina Molina (left) and Alyssa Aburachis.