September 15, 2016
Meet and Greet Held for Ethics, History and Public Policy Students, Faculty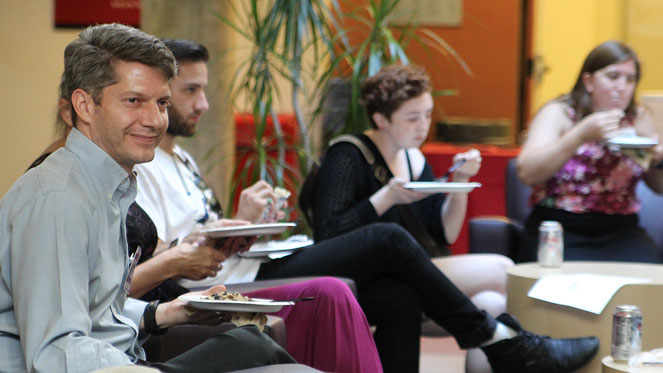 For the students in the Dietrich College of Humanities and Social Sciences' Ethics, History and Public Policy (EHPP) major, the fall semester is off to a fun start.
The joint major—between the History and Philosophy Departments—offers numerous and varied course options and paths, covering topics from political philosophy to the foundations of social science. And because most classes are open to other students, those in EHPP sometimes struggled to meet the other students in the program before their senior year.
Alex John London, EHPP director, is looking to change that with a welcome back networking reception for students and affiliated faculty.
"I think it's important for students, especially in a major like EHPP, to connect with each other early on in their college experience, because while they may have diverse interests and career goals, they always have commonalities and a passion for the core of the major," said London, professor of philosophy. "I wanted to help facilitate that interaction with an event that would connect our students, and also allow them to spend time with faculty members outside of the classroom."
The reception was a hit with students.
"It's comforting to get to know who else is involved with the program, especially now that I'm beginning to figure out what kind of career I would like to pursue," said junior Maggie Edwards.
Dietrich College Dean Richard Scheines, who teaches the EHPP course "Causation, Law and Social Policy," attended the event as well as History Department faculty members Donna Harsch, Steven Schlossman and Christopher Phillips and Philosophy's Mara Harrell, Robert Cavalier, Danielle Wenner and Kevin Zollman.
The EHPP major focuses on situating contemporary policy issues in proper historical context and developing ethically sound and politically viable policy recommendations.
_____
By Correy Dandoy