October 18, 2016
Looking for Career Inspiration? Build Your Future at Under Construction.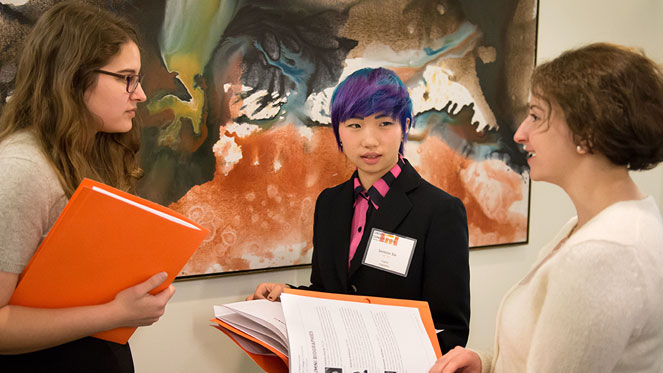 Career possibilities for Dietrich College of Humanities and Social Sciences students can seem endless. For example, an international relations and politics major could go on to law school, work for various governmental organizations or become a political or research analyst.
Luckily, Dietrich College alumni have built successful careers in almost every field and industry imaginable, and dozens are returning to campus for Under Construction: Building Your Future. The daylong event on Saturday, Nov. 19 will give current Dietrich College students the chance to learn from and network with alumni. Topics covered will range from consulting, finance and banking to research, the arts, non-profits, graduate school and much more.
"It can be difficult to conceptualize what we can do with a Dietrich degree, so it's useful to see people who found exciting careers they're passionate about," said Amelia Britton, a senior decision science major with minors in Hispanic Studies and politics and public policy who attended Under Construction as a sophomore.
Specifically, Britton was impressed by Fred Crawford (DC'83), associate general counsel at the Central Intelligence Agency, and Kim Smaczniak (DC'02), climate change negotiator at the U.S. State Department, who spoke on the Government and Politics panel.
"I saw both of them again when they visited our class during the Washington Semester Program," Britton said. "It was great to see them in another context and I appreciated the background having seen them at Under Construction."
Vaasavi Unnava, a senior economics major in the Quantitative Social Science Scholars Program (QSSS), appreciated the range of opportunities represented at the 2015 event. Discussions she chose to attend focused on everything from television to data analytics. Unnava, who is also the CMU student body president, plans to attend Under Construction again this year.
"I was personally connected with so many individuals who wanted to help me achieve the best that I can with my work at Carnegie Mellon," Unnava said. "It was inspiring and reminded me of the Carnegie Mellon culture of paying it forward, and how I can take that into my lifetime even after I leave this campus."
For Alex Lin, Under Construction crystallized his interest in the security and defense field and even confirmed that law school was a path he didn't want to pursue.
"I established a friendship with an alumnus in my field who has taught me how to show potential employers that my skills fit their requirements," said Lin, a senior majoring in international relations and politics.
These experiences are exactly why the college created Under Construction, but the benefits of catching up with alumni are not limited to students.
"Our faculty and administrators will have an opportunity to connect with past students and learn how they have taken what they learned at CMU to make distinct marks on the world," said Jennifer Keating, assistant dean for educational initiatives. "I am looking forward to our current students hearing about the dynamic pathways our alumni have forged."
In addition to the various panel sessions, there will be networking opportunities and remarks by Dietrich College Dean Richard Scheines.
"It's likely to be a deeply enriching day for all involved," added Keating.
Sophomores, juniors and seniors are encouraged to register to attend Under Construction: Building Your Future by Nov 15.
Under Construction is organized by a committee of administrative staff, faculty and academic advisers in the Dietrich College Dean's Office, the Career and Professional Development Center (CPDC), Student Affairs and the Undergraduate Research Office (URO).
Related Links:
Alumni Who Are Returning for Under Construction 2016
Under Construction 2016 Panel Sessions
Photos From the 2015 Under Construction event
_____
By Emily Stimmel