October 25, 2016
Revisiting "Tristana"
Susan Polansky Publishes Student-Friendly Version of Spanish Classic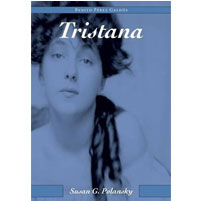 Spanish novelist Benito Pérez Galdós wrote "Tristana" in 1892, but its central theme—the limitations placed on women in nineteenth-century Spain—still resonates today. In the novel, a man named Don Lope takes a young orphan, Tristana, as his property after paying off her family's debts. Seeking freedom, Tristana begins a life-changing relationship with a painter named Horatio.
Susan Polansky, head of Carnegie Mellon University's Department of Modern Languages and teaching professor of Hispanic Studies, recently published an unabridged version of the famous novel. Her goal was to help students develop their reading and critical thinking skills in Spanish, and to give them better access to Galdós' masterful character descriptions.
"Drawing inspiration not only from Spanish tradition but also from his European peers, Galdós brought to life in his writings the intensely vivid and personal worlds of myriad characters of all ages and social conditions," Polansky said.
Often compared to prolific authors like Dickens, Balzac and Tolstoy, Galdós wrote 31 novels, 46 "Episodios Nacionales" (National Episodes), 23 plays and 20 volumes of short fiction and other prose.
Polansky wrote an introduction to "Tristana" to familiarize readers with the author and the time period in which he was active. It also includes cultural notes, marginal glosses and a glossary to improve skills, foster understanding and help draw readers further inside the text.
Several Dietrich College of Humanities and Social Sciences students worked on the project. Through an independent study of Galdós and his works, Amelia Britton, a senior decision science major with minors in Hispanic Studies and politics and public policy, helped Polansky develop questions for discussion and flagged words, phrases and cultural references that needed to be explained or translated. Britton worked closely with Natalie Giannangeli (DC'15), who majored in global studies and Hispanic Studies; and Charlotte Himeles (DC'16), who majored in Hispanic Studies. Marilú Lundeen (DC'13), a Hispanic Studies major with an additional major in European Studies, collaborated with Polansky on research and proofreading for more than two years.
Known for her long-standing love of Spanish language and culture and her dedication to students, Polansky published a similar book in 2008 – a student-friendly edition of the novel "Abel Sánchez" by Miguel de Unamuno. Both books are part of the Cervantes & Co. Spanish Classics series, published by European Masterpieces.
_____
By Christine Hucko and Emily Stimmel