October 06, 2016
Listening Into 2030
Psychology Graduate Student Helps Shape Future of Auditory Technology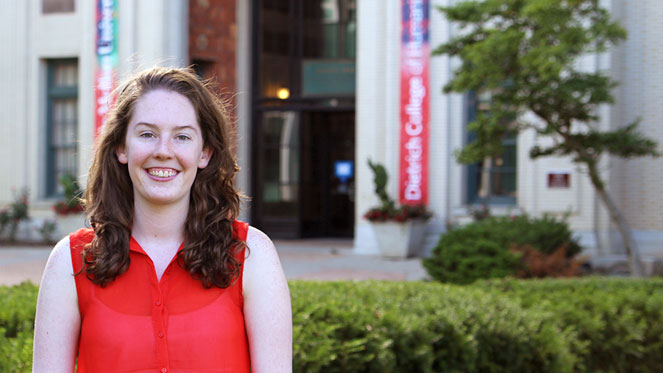 Recent advances in hearing therapies and prosthetics are paving the way for new technologies in speech communication and the hearing sciences. And Carnegie Mellon University's Casey Roark is helping create a roadmap that will guide the next 14 years of development.
Roark studies ways to simplify learning challenges—like grasping the sounds of a new language—for listeners. Her strong research background is one reason she was selected as one of only eight early career researchers among 40 attendees at the recent Listening Into 2030 workshop in Berkeley, California.
"It feels amazing to have been given this opportunity and to have my voice counted among these senior researchers," said Roark, a graduate student in the Dietrich College of Humanities and Social Sciences' Department of Psychology and the Center for the Neural Basis of Cognition (CNBC).
She added, "It is always important to keep our eyes on the future goals of the field as a whole."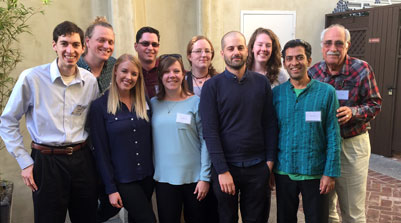 Casey Roark and the other early career researchers
at Listening into 2030
At the workshop, researchers focused on ways to restore or improve hearing for those who are hearing impaired and planned strategies to enhance sound experience for normal-hearing individuals.
For instance, they asked big questions about the implications of personalized hearing aids and thought-controlled home appliances. Participants also discussed the potential for a device that can track what a listener is trying to pay attention to—for example, a friend's voice in a noisy bar—and increase the signal of the friend's voice while pushing sounds from the environment to the background.
"With 40 of the brightest and some of the most successful people in these research fields, there was no shortage of ideas – the challenge now is to create a coherent narrative to explain and illustrate them," said Simon Carlile, a co-organizer of the event and senior director of research at Starkey Hearing Research Center.
CMU's Lori Holt, a well-known expert in auditory cognitive neuroscience, noted that the goal of the event was to "imagine the unimaginable."
"Intensive, forward-thinking workshops like Listening Into 2030 are rare. But they are incredibly productive and impactful. They require bold, out-of-the-box thinking and a willingness to cross traditional disciplines. CMU fosters excellent students like Casey by creating an environment that values just this kind of approach," said Holt, professor of psychology and Roark's Ph.D. adviser.
Roark believes her CMU education prepared her to hold her own with top scientists and Silicon Valley leaders who are innovating auditory technology.
"My experience at this workshop was absolutely consistent with my experience at CMU. Our professors are here for guidance and advice, but Ph.D. students are the main drivers of our own research and ideas," said Roark.
In addition to Starkey Hearing Research, the National Science Foundation (NSF) and Google sponsored Listening Into 2030.
_____
By Emily Stimmel