October 25, 2016
Startup Sparked By a Quest for the Truth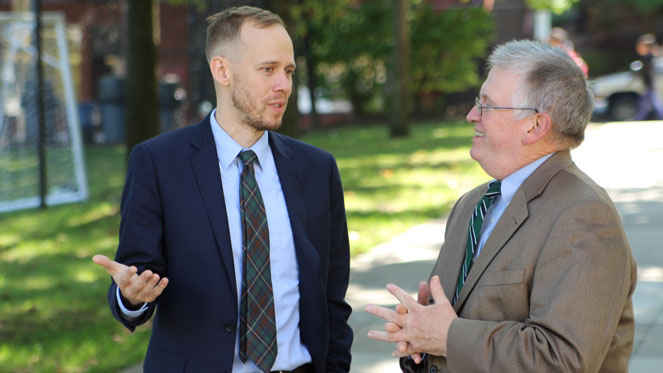 Luke Brindle-Khym is passionate about truth and justice. He has taken that passion and turned it into a career and viable business. In 2010, Brindle-Khym launched Quest Research & Investigations LLC (QRI), a firm that collects evidence for civil and criminal litigators and investigates corporate misconduct.

Brindle-Khym (DC '01) spends his days at QRI performing compliance work and transactional due diligence to minimize legal and financial risks for his clients. He said that his Carnegie Mellon University education gave him the foundation to do this by teaching him how to critically analyze texts – from great works of literature to financial statements and SEC filings.

"A Dietrich College education empowers you to ask difficult, fundamental questions and to refine and sharpen those questions as you quest closer to the truth. Students can use those skills to do great things," said Brindle-Khym, who earned his bachelor of arts degree in social history and also majored in English. 
Over the past 15 years, Brindle-Khym has applied those skills as a labor activist, law student and investigator. In 2001, he participated in a Union Summer  internship where he campaigned to help nurses organize a labor union. The cause was dear to his heart because his mother, Meg Brindle, (HNZ'88, DC'90, DC'92) was a nurse before completing her Ph.D. in applied history at CMU.

Union Summer ignited Brindle-Khym's interest in labor rights and led him to the Union of Needletrades, Industrial and Textile Employees (UNITE), where he worked with striking garment workers from DHB Industries Inc. Within six months, he uncovered strong evidence that the company's CEO was committing securities fraud. His sleuthing triggered a criminal investigation of the CEO, who was convicted of tax evasion and insider trading.

"I had little formal training in interpreting financial filings and the arcane world of securities regulation. But the tools I picked up at CMU equipped me to grapple with the evidence I was uncovering," he said.
This experience steered Brindle-Khym's career in a new direction, which he followed to the large investigations firm, Kroll. Working among prosecutors, he thought a law degree would enhance his skills. Brindle-Khym connected with Joseph E. Devine, CMU's pre-law adviser, for help preparing his application for Fordham University School of Law.

"Conducting investigations was my calling, but it was not enough," said Brindle-Khym, who recently caught up with Devine on campus. "In our society, the law is one of the most powerful ways to right wrongs. My legal training allows me to arm my clients with the facts to build stronger cases."
Devine, associate dean for undergraduate studies in the Dietrich College, often mentions Brindle-Khym to other students because of his career's twists and turns.
"His life story has been fascinating because he pays attention to opportunities and follows them. He has a willingness to embrace uncertainty and serendipity," Devine said.
Since QRI's inception, Brindle-Khym has focused on building a team of world-class investigators with strong detective skills and high ethical standards. Soon, QR investigators will begin using the artificial intelligence technology and machine learning techniques they have built in-house to identify patterns in vast quantities of data.
Kathy M. Newman   advised Brindle-Khym on his senior honors thesis and believes his intellectual curiosity and strong moral compass make Brindle-Khym an excellent role model for students in the Dietrich College.
"His interesting work should be a source of hope, proving that their education can be used to forge a unique and successful path," said Newman, associate professor of English. "He created a job for himself where there wasn't one. That is a very CMU thing to do."
Related Links:
Swartz Center for Entrepreneurship