November 08, 2016
CMU's Lisa Tetrault Reacts to Women Placing "I Voted" Stickers on Susan B. Anthony's Grave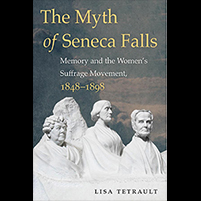 As the U.S. heads to the polls today to perhaps elect the country's first female president, it was reported that women were lining up to place "I Voted" stickers on the Rochester, N.Y., grave of Susan B. Anthony, the nation's most prominent women's suffrage activist. 
Carnegie Mellon University's Lisa Tetrault is a women's history and suffrage movement expert. She's the author of the award-winning "The Myth of Seneca Falls: Memory and the Women's Suffrage Movement, 1848-1898" and offered this perspective.
Susan B. Anthony spent a lifetime fighting for women's basic right to vote, from the 1850s until her death in 1906.  She died just years before mass numbers of women got that right.  And fourteen years before her life-long dream of a constitutional amendment banning sex discrimination in voting was added to the US Constitution.  Known as the Anthony Amendment, it is named in her honor.  If she feared her life's labor might be forgotten, she can rejoice about the lines of people leaving her modest tombstone their "I voted" sticker.  A fitting reminder of the historic significance of this election.

If Clinton is elected, she will be the first woman president during the Anthony Amendment's 100th anniversary, in 2020—something Anthony might have never imagined.  It's hard to know which would astonish her more.  How depressing it is that it's taken this long, or how uplifting it is that this may finally be happening.  

Lining up at Anthony's grave is also apt as a cautionary tale.  As a reminder of the complexity of this history, both then and now.  Women did not win the right to vote in 1920, as is often said.  Many, many women of color would not win that right until 1965, with the passage of the (now besieged) Voting Rights Act.  And when black women and others came to the major suffrage organizations protesting their exclusion from both the organizations and the voting laws, white women suffragists shrugged and did almost nothing.  Victories, no matter how historic, are always partial.  And Clinton's momentous election should absolutely be celebrated, but the next morning, we need to roll up our sleeves and ask how to tackle the enormous reservoirs of sexism and racism that continue to plague our nation.

Tetrault, associate professor of history, is available for media interviews. Please contact Shilo Rea at 412-268-6094 or shilo@cmu.edu.
Related Links:
Carnegie Mellon's Lisa Tetrault Uncovers "The Myth of Seneca Falls"
Lisa Tetrault's "The Myth of Seneca Falls" Named 2015 Most Original Book in U.S. Women's History