June 24, 2014
Press Release: Carnegie Mellon's Lisa Tetrault Uncovers "The Myth of Seneca Falls"
Contact: Shilo Rea / 412-268-6094 / shilo@cmu.edu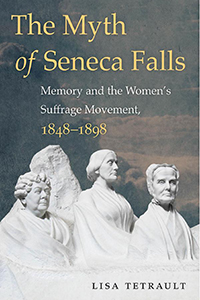 PITTSBURGH—The story of how the women's rights movement began at the 1848 Seneca Falls convention is actually just a cherished American myth.
In "The Myth of Seneca Falls: Memory and the Women's Suffrage Movement, 1848-1898," Carnegie Mellon University's Lisa Tetrault demonstrates that Elizabeth Cady Stanton, Susan B. Anthony, Lucretia Mott and their peers — who are credited with founding, defining and leading the women's suffrage campaign — gradually created and popularized the original story. Tetrault, associate professor of history in the Dietrich College of Humanities and Social Sciences, details how they created the legend during the second half of the 19th century in response to the movement's internal politics as well as racial politics following the Civil War.
"[Tetrault] makes the convincing case that an archival approach to this 'construction' of a canonized memory will show us how an origins myth rooted in the narrative of Seneca Falls has hovered over the story and reputation of women's suffrage ever since Stanton and Anthony wrote their 'History,'" said David Blight, professor of history at Yale University. "How and why Stanton and Anthony created their own myth of leadership as well as the progress narrative of their movement is a splendid case for how the politics of memory works in history."
Tetrault uncovers how the founding mythology that came together in speeches and writings — most notably Stanton and Anthony's "History of Woman Suffrage" — and provided younger activists with a foundation on which to base the ongoing struggle. She also shows how it helped consolidate Stanton and Anthony's leadership against challenges from the grassroots and rival activists.
While the myth has narrowed the understanding of the early efforts to champion women's rights, Tetrault establishes how the myth of Seneca Falls itself became an influential factor in the suffrage movement, and, how the so-called founders amassed the first archive of feminism and literally invented the modern discipline of women's history.
"Tetrault's arguments about the ways that any movement shapes its future course by reimagining its past will provide substantive grist for discussion," said Annelise Orleck, professor of history at Dartmouth College.  "[Her] characterization of the battle over memory in the woman suffrage movement will help readers to see the 'founding mothers' of American feminism in a complex and revealing light."
"The Myth of Seneca Falls" was published by The University of North Carolina (UNC) Press. For more information, visit the UNC Press website.
###