November 08, 2016
Catch Indian Oscar Entry "The Interrogation (Visaaranai)" Nov. 18
Film Offers Preview of CMU's 2017 International Film Festival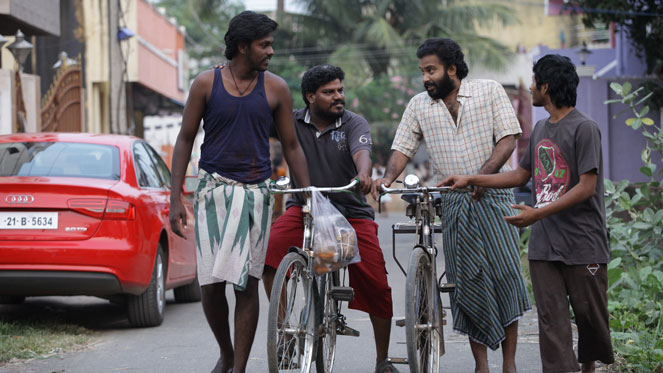 Carnegie Mellon University's International Film Festival will offer a preview of its 2017 lineup with "The Interrogation (Visaaranai)," India's entry for Best Foreign Language Film at the 2017 Academy Awards.
The film will make its Pittsburgh premiere at 6 p.m., Friday, Nov. 18 in CMU's McConomy Auditorium. Director Vetri Maaran will lead a post-screening Q&A, followed by a reception featuring Indian cuisine.
"The Interrogation" traces the lives of four young Tamil laborers caught in a web of police corruption. It is a present-day adaptation of M. Chandrakumar's memoir, "Lock Up," which documents the author's 13 days in police custody in 1983 for a crime he didn't commit.
According to Maaran, the methods of interrogation used by Indian law enforcement remain largely unchanged more than 30 years later.
"When I read 'Lock Up,' I was deeply moved by it, but even more disturbed by the realization that this was not an isolated incident – thousands of such cases were happening every year in our country," wrote Maaran.
The film, which premiered at the Venice International Film Festival, won the Amnesty International Italia Award for Best Human Rights Film and continues to be recognized internationally. Deborah Young wrote in the Hollywood Reporter, "Maaran's tense socio-political thriller lands a well-aimed punch at rampant police brutality and corruption."
The 11th annual CMU International Film Festival theme is "Faces of Identity." It will run March 23-April 9 at various locations throughout Pittsburgh.

"The film is a mistaken-identity thriller based on a best-selling novel inspired by true events. Four Tamil migrants are taken into custody for a crime they did not commit. The question as to what charges they are arrested on reminds one of Kafka's 'The Trial.' As the story develops with its unexpected twists and turns, you are sure to get hooked on it," said Jolanta Lion, festival director and assistant director of CMU's Humanities Center in the Dietrich College of Humanities and Social Sciences. "I cannot imagine a more powerful start to our 'Faces of Identity' season."
The festival is dedicated to the late CMU Professor Paul Goodman, organized by the Humanities Center and supported by Carnegie Nexus, a project of the Carnegie Museums of Pittsburgh. 
"The Interrogation" screening is co-presented with the Pittsburgh Humanities Festival. Tickets are available online and at the door and cost $5 for students and seniors and $10 for general admission.
_____
By Emily Stimmel