January 26, 2012
Obituary: Professor Paul S. Goodman Was World-Renowned Psychologist, Researcher, Author and Filmmaker at Carnegie Mellon
Contact: Mark Burd / 412-268-3486 / mdburd@andrew.cmu.edu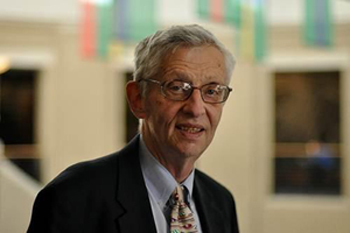 PITTSBURGH—Carnegie Mellon University Professor Paul S. Goodman, world-renowned organizational psychologist, researcher, author and filmmaker, passed away at his home in Pittsburgh on Jan. 24 after suffering a stroke earlier this year. He was 74.
Goodman joined the faculty at Carnegie Mellon in 1972, becoming a tenured professor of industrial administration and psychology in 1979. In 2000, he became the Richard M. Cyert Professor of Organizational Psychology and dedicated himself to the globalization of Carnegie Mellon, bringing to the university an international focus in education and research.
"Paul was a strong conduit for the university with audiences and organizations around the globe," said Mark S. Kamlet, provost and executive vice president at Carnegie Mellon. "He was successful in developing strategic partnerships in Asia, Latin and South America, the Middle East and South Africa. He has been a champion of the university around the world, helping to greatly expand Carnegie Mellon's reach and influence while raising education standards in developing countries."
"He was a beloved teacher and colleague," said Robert M. Dammon, dean of the Tepper School of Business. "His commitment to advancing international business issues through his research and teaching, and his passion for working on innovative projects will have a lasting impact throughout the world."
In Brazil and Chile, he explored projects on environmental issues with leading universities and using technology to enhance learning. In India, the National Program for Technology Enhanced Learning that he helped to establish was designed to improve the quality of regional engineering schools. In Israel, he worked to develop a program to build a leadership institute to facilitate Jewish-Arab co-existence. In Latin America, he was instrumental in the creation of an educational network across seven countries to improve the quality of education in public secondary schools. And in Singapore, Goodman worked to help establish a new School of Information Systems. In 2003, he was recognized by the American Council on Education for his innovative use of technology to promote international learning.
In the 1980s, Goodman designed and initiated the Center for the Management of Technology, which conducts joint research with industry, and served as director throughout the center's existence. He also served as director for the Institute for Strategic Development, which facilitates the globalization of research and educational activities, and his achievements have been noted around the world.
Goodman worked exhaustively in the United States to raise awareness of conditions in emerging economies as they relate to established methods of production in modern industrial nations. In addition to his published works, Goodman produced more than 20 educational films and documentaries, including a three-part series of documentaries about work in developing countries. The films, which aired on PBS, offered new and important insight on work and production in such countries as India and Brazil, and Goodman argued that the lessons they taught could benefit American businesses open to new ideas.
Goodman has authored or co-authored nine books and chapters in dozens of other publications and monographs. His most recent book, titled "Organizational Learning Contracts: New and Traditional Colleges," which examines how students learn and defines the critical relationship with institutions of higher learning, was published in 2011. His works also have been published and reprinted in dozens of professional and academic journals including the Journal of Applied Psychology, Academy of Management Journal, Safety Science, Journal of Applied Behavioral Sciences, Journal of Organizational Behavior and MIS Quarterly.
Goodman was a fellow of the Society for Industrial and Organizational Psychology, the American Psychological Society and the Academy of Management. In 2001, he received the Distinguished Educator Award from the Academy of Management. In 2009, he was presented with Carnegie Mellon's Doherty Award for Sustained Contributions in Excellence in Education.
Prior to joining Carnegie Mellon, he served as an adjunct professor at Cornell University and as an assistant professor at the University of Chicago. Born in Cambridge, Mass., he earned his bachelor's degree in economics at Trinity College (Conn.) in 1959 and an MBA at Dartmouth College's Amos Tuck School in 1961. He earned a Ph.D. in organizational psychology at Cornell University's School of Industrial and Labor Relations in 1966.
Goodman is survived by his wife, Denise M. Rousseau, a University Professor at Carnegie Mellon and the H.J Heinz II Professor of Organizational Behavior and Public Policy at the Heinz College and Tepper School of Business; three daughters, Jennifer Goodman, Heather Cooke and Jessica Cooke; and two sons, Jonathan Goodman and Daniel Goodman.
###