November 11, 2016
Lessons Learned From the Software Industry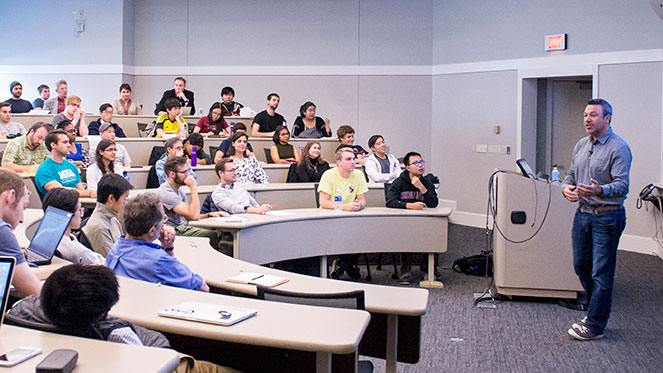 Over the past 20 years, Adam Gross (DC'94) has weathered the dot-com crash, founded two companies, worked in marketing, product management and leadership roles and invested in startups. Every step of the way he has learned valuable lessons, which he shared with a room full of budding entrepreneurs at Carnegie Mellon University.
To prepare for his talk, "After CMU: Building a Career in Technology," Gross thought of the advice he wished he'd received as a college senior planning a career in the software industry.
That advice included focusing on companies that reflect one's values rather than zeroing in on a specific title or status, and seeking opportunities at the intersections of seemingly dissimilar fields. "Opportunity and the trajectory of a company are what counts," said Gross.
Pointing to Steve Jobs as an example of someone who successfully blended liberal arts and technology, he noted that CMU's Dietrich College of Humanities and Social Sciences sets students up for success across disciplines. In fact, he said that's part of why he designed a major in New Media Systems and Policy through the college's Student-Defined Major Program. "It's better to be pretty good at two things than great at one," he remarked.
He described his core skills as creativity in executing ideas, empathy for customers and curiosity.
Randy Weinberg was impressed by the way Gross has used these skills to navigate his career's twists and turns.
"It's always great to see distinguished and successful alumni return to campus to share their personal journeys," said Weinberg, teaching professor and faculty director of the Dietrich College's Information Systems Program. "His advice on keeping an open mind to new possibilities, remaining curious and being persistent in one's endeavors is completely on target. I also appreciated Adam's honest discussion of the ups and downs of his career and his resilience."
Mark Vella, a senior information systems major, enjoyed the lecture's focus on learning from every experience – good and bad.
"It was freeing to hear Gross talk about how everything matters, but at the same time, nothing does. It's not about grades, or success or failure – it's about what you learn," said Vella.
Gross also met with students for a roundtable discussion about the importance of building strong customer relationships and standing out from competitors.
His lecture was the third in the Dietrich College Entrepreneurs Speaker Series. It was also sponsored by CMU's Swartz Center for Entrepreneurship. Previous lectures featured Dietrich College alumni Javier Soltero (DC'98) and Lane Bess (DC'83).
Watch a video of After CMU: Building a Career in Technology »
_____
By Emily Stimmel