May 05, 2016
Students Debate German Refugee Stance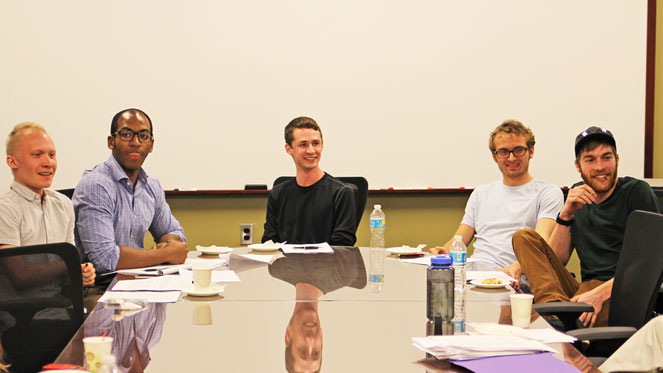 When German Chancellor Angela Merkel committed her country to allowing an open-ended number of refugees to enter between 2015 and 2016, the choice ignited controversy throughout Europe. And Carnegie Mellon University students recently had the opportunity to join the debate.
Stephen Brockmann held a mock debate for his "Germany and the European Union" course to allow students to discuss the merits of Merkel's decision and its impact on Germany and the EU.
Brockmann, professor of German, said, "It's important to stress that much of what we work on, and what we teach, is directly related to some of the most pressing issues facing the world today. The current refugee crisis, and Europe's response to it, is clearly one of these pressing world issues."
Two teams declared their positions before an audience of some 20 fellow students and faculty representing the History and Modern Languages Departments.
Winners Philip Rheinheimer (A'17) and Ryan Archer (SCS'17) argued the negative side. The team opened with a stance opposing the acceptance of refugees into Germany, but quickly refined their position, advocating for a cap on the number of immigrants. It was this nuanced perspective, combined with ample evidence to support their claims, that gave them the winning edge.
"Even though being on the negative side sounded like we were anti-immigration, we were actually able to be pro-immigration but argue for moderation," said Rheinheimer, a lighting design major from the School of Drama.
To Archer, a computer science major, researching the topic reinforced his position.
"I enjoyed the learning that comes from preparation. Although my thoughts on the matter remained consistent, formulating my arguments prior to the debate strengthened my position on Merkel's choices regarding the crisis," he said.
Both students found the experience challenging — and rewarding.
"Although walking into a room full of strangers was pretty daunting at first, it ended up being the most rewarding part. Getting a chance to interact with other students and faculty and to hear their thoughts on this issue was the most enjoyable part of the experience," Rheinheimer remarked.
Katherine Lynch, professor of history, judged the debate alongside Ricky Law, assistant professor of history, and Tim Haggerty, director of the Humanities Scholars Program.
Lynch said, "We felt that both sides did a good job on such a complex topic. What was most challenging for me was the fact that both sides were well prepared and stated their positions with poise and conviction. It was difficult to choose a winner."
Kirk Newton (A'16) and Yannick Hogarth (DC'16) argued in favor of unlimited immigration into Germany, pointing to projected long-term benefits such as bolstering the labor force and supporting an aging population.
After deliberating with Haggerty and Lynch, Law noted that the positive team's rhetoric was both inspirational and aspirational.
The debate, which was sponsored by the Modern Languages Student Advisory Council (ML-SAC), was the first hosted by Brockmann. He felt the timing was right for the event due to the importance of the refugee crisis in Europe.
"It's vital for our students to get practice with public speaking at a high level. In my view, the success of this event confirms the value of such an exercise, and I fully expect to organize similar events in the future," Brockmann said.
"It's clear that there are a lot of Carnegie Mellon students with a strong interest in world affairs, and with the ability to address issues of international significance at a high level."
_____
By Emily Stimmel