May 12, 2016
Students, Alumna Receive Fulbright Awards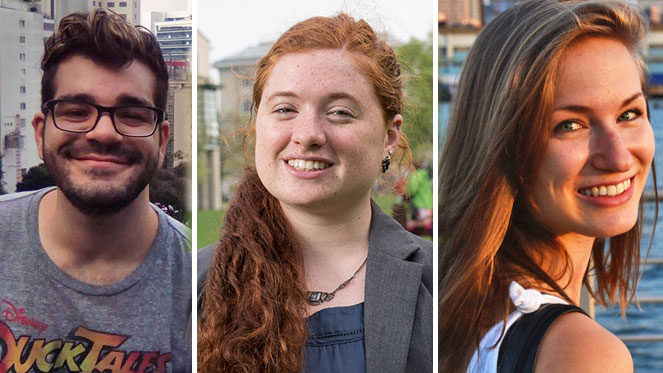 Carnegie Mellon University's four Fulbright award winners for 2016 will research, study and report across three continents. One student and one alumna from the Dietrich College of Humanities and Social Sciences are among the new recipients. Additionally, Juan Acosta (DC'15), will pursue his Fulbright that was awarded last year.
"Our Fulbright candidates have crafted distinctive academic experiences that align well with their existing skill sets and foster continued growth and development as scholars and cultural ambassadors," said Joanna Dickert, assistant director of undergraduate research and national fellowships. "Our cohorts are quite diverse, drawing bachelor's, master's, doctoral and alumni applicants from all disciplines. Laura, Daniel, Chelsea and Lauren exemplify this depth and breadth, and we are very proud that they will be representing Carnegie Mellon."
CMU's Fellowships and Scholarships Office provides support to students who are interested in applying for nationally competitive fellowships and scholarships.
The U.S. Department of State's Bureau of Educational and Cultural Affairs sponsors the Fulbright U.S. Student Program to "increase mutual understanding between the people of the United States and the people of other countries."
This year's Fulbright winners are:
Laura Berry
Class of 2016, Bachelor of Arts in Creative Writing and Japanese Studies
Dietrich College
Berry will travel from her hometown of Ridgewood, N.J., to Japan on a Fulbright Study/Research Grant. She plans to explore literature written by women during the economic slump of the 1990s, known in Japan as the "Lost Decade." She will continue her language studies and audit courses at Hokkaido University in Sapporo.
Daniel Fonner
Class of 2016, Master of Arts Management
Heinz College
Fonner, of New Martinsville, W.Va., will study access to and the availability of creative arts therapies for U.K. military personnel suffering from mental illnesses. The recipient of a Fulbright-University of Warwick Award, he will enroll in the Master of Arts program in International Cultural Policy and participate in the Think Tank Society and Cultural Value Initiative. He also plans to join the Heart of England Co-operative Concert Orchestra as a percussionist.
Chelsea Kolb
Class of 2018, Ph.D. in Civil and Environmental Engineering
College of Engineering
Kolb, of Cloquet, Minn., received a Fulbright Study/Research Grant to investigate how projected climate change will impact aquifer levels in northwestern Costa Rica. Working with a hydrologist, she plans to develop water management strategies for local stakeholders, whose water supply has been impacted by increased development and changing agricultural practices. She will be affiliated with the National University of Costa Rica, Liberia's Center for Hydraulic Resources for Central America and the Caribbean.
Lauren Mobertz
Class of 2012, Bachelor of Arts in Professional Writing
Dietrich College
Mobertz, who resides in New York, received a Young Professional Journalist Award to report on the work experience of Millennials in Germany and the current state of labor in the country. She plans to cover mental health taboos in the German workforce, internships and job placement for recent high school and college graduates, and work options for young refugees.
Additional 2015 Fulbright recipient:
Juan Acosta
Class of 2015, Bachelor of Arts in Hispanic Studies and Global Studies
Dietrich College
Acosta began his Fulbright English Teaching Assistantship in Brazil this past February. He is teaching English language and U.S. culture workshops, studying Portuguese and working virtually as a Re-imagine Learning associate with Ashoka, the world's largest network of social entrepreneurs.
_____
By Abby Simmons