June 15, 2016
Shattering Misconceptions About Women's Decision-Making Power

On the S&P 1500, there are more male CEOs named "John" than there are female CEOs of any name.
The "John Statistic" is just one of the ways Carnegie Mellon University alumna Therese Huston (DC'93,'96) discovered that women are underrepresented at top decision-making levels. She uncovered this phenomenon while researching her new book, "How Women Decide: What's True, What's Not, and What Strategies Spark the Best Choices."
"When a man faces a hard decision, he only needs to think about making a judgment. When a woman faces the same hard decision, she has to think about making a judgment and also navigate being judged," said Huston, who earned M.S. and Ph.D. degrees in cognitive psychology.
Dubbed a companion piece to Sheryl Sandberg's "Lean In" by Booklist, "How Women Decide" examines long-held misconceptions about women as decision makers. For instance, many people erroneously believe that men always take more risks than women.
Another surprising finding: It's not just men who perpetuate these stereotypes.
"There's a disturbing series of studies showing that when men and women solve a problem together, and it's not clear who made the crucial contribution to a successful decision, women give men the credit," Huston remarked.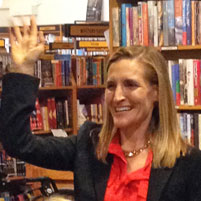 The book is for anyone seeking strategies to hold onto the talented women in their companies. In fact, the New York Times described "How Women Decide" as "required reading on Wall Street."
"I've chosen to focus on women's decisions in the workplace because there's an odd disconnect in the literature: pick up a bestseller on decision-making and you probably won't find anything in it on gender. But if you pick up a book on gender and leadership, you won't find anything on decision-making," Huston said.
She added, "There have been several wonderful books about women in the workplace recently, but a recurrent takeaway is that 'women are doing the wrong thing.' When I look at how women make decisions, wrong is not the word that comes to mind. Brave? Yes. Flawed? Sure – but no more so than men. Misunderstood? Absolutely."
Reflecting on her time at CMU, Huston called Marlene Behrmann her "mentor extraordinaire." Behrmann isn't surprised to see Huston filling a gap in the decision-making literature.
"Therese has superb teaching skills, is interested in a wide array of topics and she knows how to put the facts together in an accessible and engaging fashion," said Behrmann, the Cowan University Professor of Cognitive Neuroscience. "I enjoyed working with her enormously. Aside from her incredible baking skills —she would bring cookies and cakes with regularity — she was curious and seeking. We have remained in contact since her time at CMU and have continued to discuss intellectual topics and to maintain the friendship we developed during her time at CMU."
Behrmann added, "Simply put, Therese is awesome. She is funny and profound at the very same time — no mean feat."
"How Women Decide" is published by Houghton Mifflin Harcourt. Harvard University Press published Huston's first book, "Teaching What You Don't Know," in 2012.
_____
By Emily Stimmel