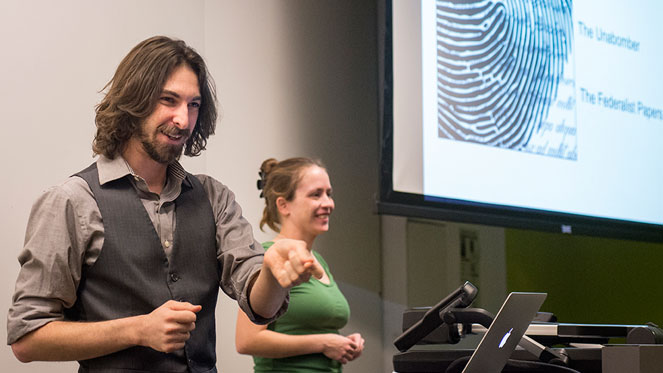 December 02, 2016
QSSS and HSP Scholars Delve Into the Digital Humanities
By Ann Lyon Ritchie
It may seem that students in the Dietrich College's Quantitative Social Science Scholars (QSSS) Program and Humanities Scholars Program (HSP) are studying different subjects and learning to approach their various disciplines in contrasting ways. But as first-year students in each program recently learned, there is definitely some common ground.
Carnegie Mellon University's Scott Weingart and Jessica Otis, both digital humanities specialists, presented "Computers and the Humanities," which explored current practices in applying new, technology-enhanced methods and tools for research, documenting information and educating others.
QSSS Students
Otis discussed mapping technologies that use crowdsourcing to document cultural heritage and historical sites. She highlighted the benefits and risks of collecting and interpreting information, citing polling and prediction websites, such as 538, which was criticized for its polling results during the 2016 presidential election.
In another kind of practice, Weingart discussed how researchers are text-encoding digital texts with tools such as CMU's DocuScope for the purpose of doing literary and historical analysis. David Kaufer, the Paul Mellon Distinguished Professor of English, recently analyzed political memoirs by Hillary Clinton in this manner. Another example is stylometrics, or the use of text analysis to identify an unknown author, such as the case of attributing J.K. Rowling to The Cuckoo's Calling.
Weingart acknowledged the differences between the students in the room. QSSS students could be broadly grouped in analytical fields, such as statistics, economics and psychology, while those in HSP work primarily in conceptual fields, such as rhetoric, modern languages, history and philosophy.
"We ask how technologies can augment our fields of study but also consider how we in the humanities and social sciences can bring our awareness of the world to bear on technology and the ramifications of technology," Weingart said. "It's incumbent upon all of us to have statistical literacy and the statistical awareness to be able to navigate more easily the world and what it's becoming. It tends to be a very data driven world."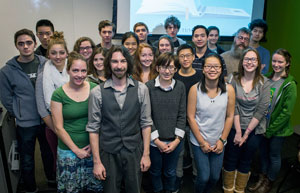 HSP Students
After the presentation, Amy Tsai, a QSSS student majoring in economics and statistics said she would take them up on the open office hours to learn more. Lauren Kelly, an HSP student majoring in professional writing and creative writing, admitted it would be useful for reports.
"The graphics were interesting. I have an interest in animation in addition to writing and would like to try some of the online tools they presented," said Rebecca Enright, a creative writing major.
Mark Patterson, director of QSSS, and Timothy Haggerty, director of HSP, coordinated the joint session.
"The idea of bringing QSSS students together with HSP students began simply with a conversation Tim and I had over the summer when we discovered a common interest in recent digital projects. Opportunities like this, which bring quantitatively-focused social scientists into dialogue with humanities scholars, are a real treat, and having Scott and Jessica here as guides is a tremendous benefit," Patterson said.
CMU is committed to using digital scholarship and technology-enhanced learning and research to transform and enhance graduate education in the humanities. In 2014, the Andrew W. Mellon Foundation awarded the university a five-year, $2 million grant to provide resources for students and faculty members to learn the skills and apply programming and tools in their research and scholarship through research-training courses. The work is also closely aligned with the Simon Initiative, which aims to transform higher education instruction through CMU-led advances in learning science and its applications.