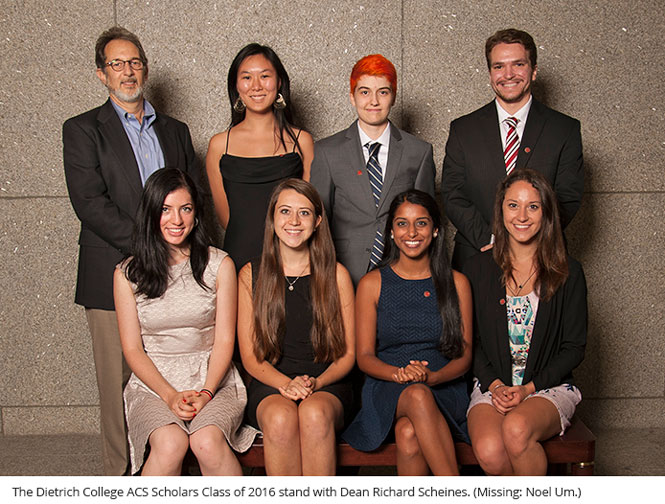 September 29, 2015
Andrew Carnegie Society Scholars Announced
Complied by Shilo Rea
Eight Dietrich College seniors have been selected to the Andrew Carnegie Society (ACS) Scholars Class of 2016.
ACS Scholars are CMU undergraduates who achieve high standards of academic excellence combined with outside of the classroom activities, such as volunteerism, involvement in student organizations, participation in sports or the arts and leadership.
Zora Gilbert
Gilbert is a linguistics major, with minors in psychology and professional writing. As both a teaching assistant and co-president of the undergraduate Linguistics club, Gilbert has developed into both a leader and a reliable and much sought-after source of support for their peers, particularly in matters of gender identify and self-assertion. Their studies and capabilities have led them into several roles and initiatives that reflect their desire and intention to have their work result in real and positive social impact. For example, last summer Gilbert received a grant to intern at a leading child language research lab in New York City and work in the classroom as a volunteer with the East Harlem Tutorial Program. This experience helped shape their senior honors thesis, which a study of how students use African American English in on-task discussions in the classroom. Gilbert is also one of two editors of an anthology of LGBTQ+ historical fiction (Dates Anthology), for which they have run a successful month-long Kickstarter campaign. Right now, Gilbert's tentative plans for after college are to pursue a master's degree in sociolinguistics while focusing on the educational implications and applications of the field.
Rubini Naidu
Naidu is a psychology major, with a minor in photography and on track for medical school through the pre-medical curriculum. Naidu is referred to by her nominators as "one of the most energetic, intelligent and thoughtful undergraduate students with whom we have ever had the pleasure of working." Her interests and talents are breathtakingly broad, ranging from psychology and biology to art, design and photography. More significantly, she has integrated all of these into a coherent mission for her life. This is perhaps best illustrated by her efforts to combine her study of psychology and science with photography. She sees her photography as a means of capturing principles and phenomena that she has discovered and discussed in other facets of her education, bringing in connections from psychology, biology, philosophy and economics. Naidu has also demonstrated her commitment to service and capacity for leadership while at Carnegie Mellon. She has served as an academic coach, serves now as President of the Doctors of Carnegie Program for students interested in the health professions and founded Chinmaya Yuva Kendra, an organization that is dedicated to exploring Hindu religion and its applications to students' lives.
Lucy Pei
Pei is a global studies major, with an additional major in human-computer interaction. In addition to amassing an extraordinarily strong academic record across a broad and rigorous set of curricula, Pei also demonstrated her capacity for service, leadership and scholarship. She was selected for the Dietrich Honors Fellowship Program to support her in the early stages of her senior honors thesis research. In this project, Pei is working with Professor Sue-Mei Wu to study language use and code-switching in bilingual Chinese immigrant family storytelling. What's more, Pei's interests and engagement are not just academic. She has volunteered as a mentor for high school students in Pittsburgh and has served as a project leader for a student-led project in Nicaragua. She interned with TechBridgeWorld and has also created interactive modules for Social Change 101, a free on-line course on the history of social change for History Professor Nico Slate. On top of all of these activities, Pei has also been a longstanding member and leader of Counterpoint, an all-women's a capella group.
Laura Scherb
Scherb is a professional writing major, with an additional major in creative writing. On all counts, Scherb is an academically successful student. She has been on the Dean's List with high honors numerous times and is a member of the prestigious Sigma Tau Delta, a prestigious international English honor society. Scherb is also dedicated to developing herself professionally through a variety of on- and off-campus opportunities. On campus, she has developed her skills in writing and editing through her work at CMU's student newspaper. She started off as a staff writer and through her own effort and persistence worked her way up to manager and finally publisher of the paper. Off campus, she has also shown impressive professional development. This past summer she was selected as the editorial office manager of the Chautauqua Daily, a role in which she managed staff and wrote articles about events at the renowned Chautauqua Institution. In the spring, she interned for StandOut Marketing, where she developed skills in online research and social media strategies. Scherb also stands out because of her leadership and service. In December of 2012, Laura and another CMU student founded "CMU In Haiti" after returning from a course-inspired trip to the country and witnessing the economic and educational challenges it faced. She has served as an ambassador for the David Project, a Boston-based Israel advocacy organization striving to change public discourse on the Jewish situation a positive way.
Ashley Sobhani
Sobhani is a global studies major who has excelled academically, while also volunteering her time and talents to reducing gender-based violence both on- and off-campus. Sobhani has consistently impressed her professors with her subtlety and perceptiveness on complex issues. She has also had a deep impact on campus through her commitment to ending sexual assault and gender-based violence, both on-campus and beyond. She is a leading student voice on campus regarding these matters, serving on the Sexual Assault and Relationship Violence Committee in addition to being president of Got Consent, an advocacy group that works to help victims of sexual assault and reduce the prevalence of relationship violence. Last summer, Ashley interned with the Tahirih Justice Center, a U.S non-profit organization that seeks to protect immigrant women and children from gender-based violence. She has also recently received a fellowship from the People for the American Way, an organization that advocates to protect rights guaranteed under the First Amendment. Additional evidence of Sobhani 's leadership abilities comes from her position as an executive member of the University Student Affairs Council that meets regularly with the Dean of Student Affairs.
Noel Um
Um is a social and political history major, with minors in anthropology and English. Her academic and extracurricular records are simply extraordinary, and she impresses everyone she meets with the easy elegance and sincerity of her language and personal style. Um's coursework is wide-ranging throughout Dietrich College and the College of Fine Arts. Um spent three semesters as news editor of The Tartan and is now starting her third consecutive year as a writing tutor. While working at The Tartan, she also served as a freelance reporter for the Pittsburgh Post-Gazette and she published over 20 articles in the news, arts and entertainment sections. In the summer of 2013, she was an editorial intern at Interview Magazine in New York City, transcribing interviews with artists and musicians and gathering and categorizing visual images for the magazine's arts, music and film calendars. Most recently, in her junior year, she served as a research assistant for Blake Gopnik, the former chief art critic for the Washington Post. In this role, she gathered a wide variety of documentary and visual data for a biography he is writing on Andy Warhol. Other key off-campus service and leadership roles include Um's ongoing involvement with both the Korean United Presbyterian Church and Asian Christian Fellowship, her work with Union Rescue Missions serving the homeless in Los Angeles and her teaching English as a second language to recent immigrants in Boston. At CMU, Um is deeply involved in Greek life. She has also trained as and remains a highly talented ballet dancer. At the moment, Um is planning to pursue a master's degree in museum anthropology after graduation from Carnegie Mellon, and to work several years before pursuing a Ph.D., very likely in anthropology and archeology.
Jessica Wallach
Wallach is an international relations and politics major, with an additional student-defined major in African Studies. She is an outstanding student with an intellectual curiosity that drives her to pursue academic pathways that are not always obvious and well¬ traveled. For example, Wallach developed a self-defined additional to combine advanced language study in both French and Arabic. She earned a prestigious scholarship through the Foundation for Global Scholars to study abroad in Muscat, Oman, which allowed her to perfect her Arabic language skills. She has held internships with the United States Agency for International Development (USAID) West Africa Regional Agriculture Office in Accra, Ghana. As her knowledge of Africa, international relations and politics, Arabic and French grew, Wallach also developed a deep interest in agriculture, leading her to take a course in horticulture at Pittsburgh's Phipps Conservatory. This past summer, Wallach interned at Township Valley Farms in California, where she learned the hard work of cultivating, harvesting and processing crops - while growing her interests in farm infrastructures and irrigation systems. She's combined her hands-on farm experience with academic research on agricultural technologies and innovations for West African small farmers. During her senior year, Wallach will complete a senior honors thesis on the gendered processes of agricultural development in Africa. Her hope is to gain a competent understanding of the context of Africa's most pressing issues as it plays its role as a rising economic and political force in a modern, complex and increasingly globalized world.
Ronald Yurko
Yurko is a statistics major with outstanding academic and co-curricular records. His professors report that he has taken many of the most challenging courses available, and he always gotten the most out of them and performed at the top of the class. They also have been uniformly impressed with his intelligence and dedication. For example, Yurko took two special topics courses instead of the one required. When a special course in astrostatistics was offered, Yurko took it. When the Statistics Department offered a more rigorous honors version of its statistical theory course, he applied and was accepted. He took the undergraduate research course, where only the top dozen students are accepted, and did an independent semester of research. Professor Andrew Thomas said, "He took complete leadership and produced an excellent analysis using the limited data we had at our disposal." This past May, Yurko presented his work at Meeting of the Minds and won first place in the Statistics Poster Competition. Outside of the statistics curriculum, Yorko has been very active with his sports interests. He created and taught a StuCo course on "sabermetrics" (the use of statistics in sports) as applied to baseball. He also co-founded and is vice-president of the Tartan Sports Analytic Club (TSAC), a very active campus club that has even been recognized by ESPN. Being the first official alumnus of the TSAC is one way Yorko plans to continue his CMU affiliation. In the professional realm, Yorko has participated in three internships related to statistics with PNC Financial Services, the Pittsburgh Pirates and Schenley Park Advisors.